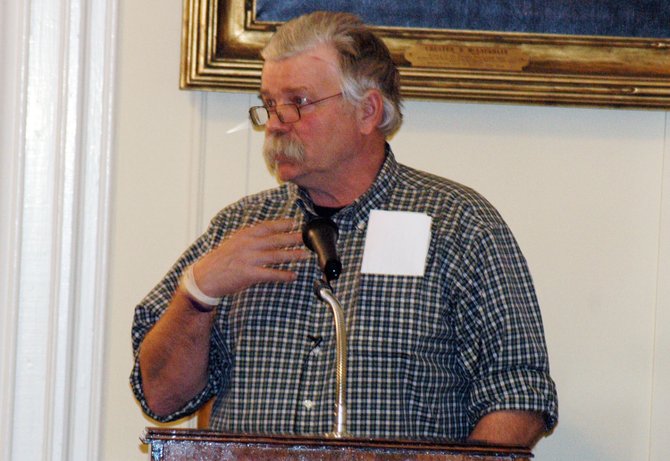 continued — Along with these issues, several also spoke about the speed at which the law was passed.
"The fact that this law was passed bypassing the democratic system and the chance to have debate over it," Moore said. "They took advantage of a tragedy and utilized that as a vehicle to push this through. This is so fundamentally wrong."
"They did not go through the due process," Morrow said. " If we let them get away with that this time, they will try to do it again. There are a lot of things in the law that are confusing, that law enforcement officials can't seem to get their hands around. It needs to go through the proper channels."
"This was done so rapidly," Cutting said. "A lot of our winter business at the annual Sheriff's Association meeting got set aside for this issue. The general feeling was that this law lacks. This law would have done nothing to prevent Sandy Hook or Columbine or any of those massacres. All of these things are what I see as simple, rush-through errors."
"All of our states and the federal government has a process that allows all of us to say that we have a part in this. This is a law that we did not have a part in," Crown Point Supervisor Charles Harrington said. "There are very few examples where a government has to say we did not have a law yesterday and we need it today. We need to have our leaders own up to the fact that they acted way too fast and did not own up to the whole picture."
Only one person took to the stand when Morrow asked for public comment and spoke in favor of a repeal.
"As elected leaders of our county, you have taken an oath to defend the Constitution and the Bill of Rights, which includes the second amendment," Rich Redman of Moriah said. "The New York State Legislature are trying to take away the rights of law-abiding citizens. This is about government seizing control and taking away our personal liberties. There could also be impact because there is a lot of pressure in the sportsmen community to not buy licenses here but go to Vermont of Pennsylvania to hunt. That would be a huge impact on the revenue from $80 to $90 licenses."
Vote on this Story by clicking on the Icon