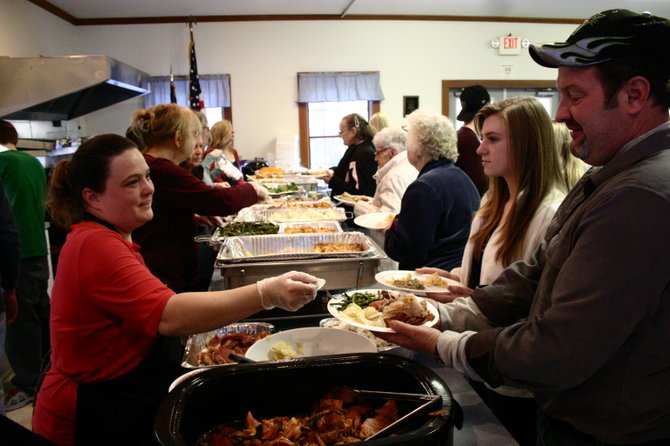 continued — His son agreed. "It brings the community together," he said. "The volunteers work hard to carry on this great tradition."
One of those volunteers was Town Clerk Cynthia Hyde, who was at the sink washing a large roasting pan. She praised Kathy and Andy Templeton for their work organizing the party.
"For weeks and weeks, they were in and out of the town hall," she said. "They put a lot of time, effort and thought into this."
George Chonko and Aiden Templeton were nearby, shaving ice for the dessert of Jack Wax. Tina Parker was standing at the cookstove, stirring up the bubbling maple syrup to be ladled over the ice shavings for servings of the taffy-like traditional treat.
"Jean Reynolds taught me how to do this," Parker said. "It's for a good cause — both my parents had cancer and my brother is battling it now."
Serving up portions of food were Kaitlyn and Chelsea Witz, Emma Feiden, Shirley Wendling, Kristen Constantineau and Martha Terrell — while Kelsey Winter and Melissa Bergman of the Warren County Youth Court were pouring beverages. Susan Jennings and "Tuck" Birdsall were dispensing tickets and Nancy Decker was nearby selling raffle chances
"This is a hometown celebration," Terrell said, dancing in place in the serving line. "We're having fun while we're raising money for a good cause."
Paula Hubert agreed with her.
"People from all over love coming up to Thurman to have a great meal and help the cause," she said.
Among those traveling to Thurman were Pat Lange and Bob Weir of Queensbury. They attended Thurman's Maple Days fest on Saturday, tasting gourmet goat cheese at Nettle Meadows Farm, seeing how maple syrup is made at Adirondack Gold Maple Farm and topping off the day at the Jack Wax Party.
"We read about this on the Internet, and now we're here having a grand time," she said with a broad smile.
Vote on this Story by clicking on the Icon