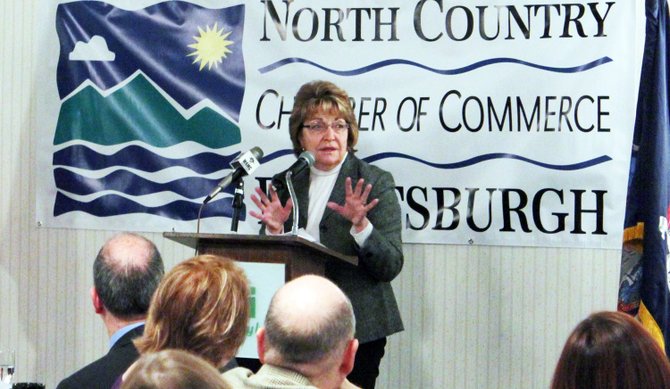 continued — John Donoghue of the Plattsburgh-Saranac Lake Building and Construction Trades Council, spoke against holding the North Country to that requirement.
"Putting 20 percent across the state isn't fair," Donoghue said. "Why can't they go county by county and adjust the affirmative action numbers so it tailor fits each area, so we can keep our work local? It's hard enough for our contractors to bid competitively and supply benefits against the people that don't."
Little sympathized with Donoghue.
"That's why I'm on that task force; I wanted to speak for the rural areas," she said. "This is not New York City and we do not have the number of minority- and women- owned businesses."
The North Country business community is also largely opposed to the proposed minimum wage increase.
"Most small businesses can't afford the 21 percent increase," Douglas said. "Any increase must be balanced with other forms of cost savings, reform measures and tax relief for small businesses."
Perhaps even more contentious was Gov. Cuomo's SAFE Act.
"We started off with a bang, literally, with the gun bill," Little said. "People talk about getting it repealed, but we don't have the votes in the Senate."
Presently, Little said there are only 19 "no" votes out of 63 total votes in the Senate.
She added that she agrees with some aspects of the legislation, but thinks other portions of the law fall short.
"Making owning an illegal gun a crime is good, it was just a misdemeanor before," Little said. "These tragedies that happen, we'd love to prevent it from ever happening, but I'm not sure that we can."
Stephens Mundy, CVPH Medical Center President, said he is concerned that people who need firearms for their job, or for hunting, will no longer seek help for mental health issues because of the SAFE Act, which requires mental health care professionals to report people they suspect could be dangerous to themselves or others to the county's mental health director.
Those reported will be added to a database and will become ineligible to own or purchase a gun for five years.
The failure to get help they need could lead to an increase in the suicide rate, Mundy said.
Vote on this Story by clicking on the Icon