Photo Gallery
North Country SPCA Moves to Elizabethtown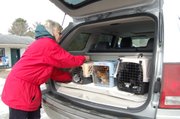 On Nov. 28 more than a dozen volunteers and shelter employees moved 10 homeless dogs and 36 homeless cats from the older SPCA shelter in Westport to a new, state-of-the-art facility in Elizabethtown.
Elizabethtown — It was an emotionally charged afternoon for volunteers and friends of the North Country SPCA as 36 cats and 10 dogs made their journey in 11 cars from the 45-year-old aging shelter in Westport to the new state-of-the-art facility in Elizabethtown.
The 9-mile separation, though a brief drive, was the result of five years of hard work and $1.6 million of fundraising. For SPCA shelter manager Pam Rock, it felt like a dream come true.
The volunteers and workers took the animals from the old shelter on Lakeshore Road in Westport on Nov. 28. Using a bucket brigade, they passed kenneled cats and dogs to waiting recipients and into the back of vehicles.
"It feels great now that the day is finally here," said Margie Reuther, co-chair of the Capital Project and member of the SPCA Board.
The volunteers then caravaned to the new shelter on Route 9N in Elizabethtown, where Reuther and a dog named Trooper were the first ones to walk into the Frances Miller Shelter.
"I cried all the way over here with the cats meowing in the back of the car," said Keene Valley volunteer Sandy Burke.
North Country SPCA Executive Director Jessica Hartley and another volunteer took a second after putting every animal in their new quarters to embrace.
"It's good to finally be here," Hartley said.
State-of-the-art facility
The contrast between the two structures was evident with the new shelter's open layout and generous sunlight from floor-to-ceiling windows.
The 3,200-square-foot building was designed by ARQ Architects, who were in charge of the renovation to the ASPCA headquarters in New York City. The New York City shelter is being used as a national model for its ventilation, lighting, for being nearly sound proof, energy efficiency and for providing a stress-free environment for animals. Like the shelter in New York City, Reuther said the Essex County shelter will be used as a model for small- and medium-sized communities all across the country.
(Continued on Next Page)
Prev Next
Vote on this Story by clicking on the Icon