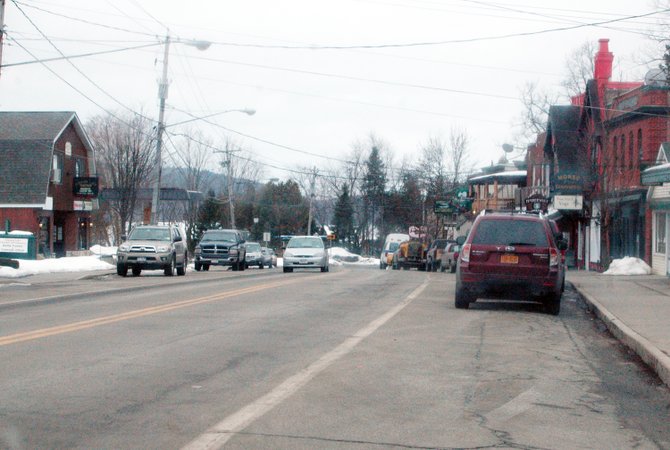 continued — "I was on the Northway when the chase first started and saw the cars go by," said Muryle Rice, who lives above Pitkin's Restaurant where she works. "I didn't think much of it at that time, but by the time I got home, they were coming right by the restaurant. They were hauling."
Pitkin's is located in the heart of Schroon Lake, along a very narrow stretch of road often lined with parked cars.
Luckily, Rice said, no one was in the way.
"It happened to be the perfect time, I guess," she said. "No one was driving along the road at the time and no one was walking across the street."
Up the road at the Mt. Severance Country Store, Tyler Sabia was at the counter when he noticed a black truck, later identified as Aubin's, "flying by."
"It was really slow in the store," Sabia said. "The truck was right on the tail of another car that pulled in here to get away from him. Then there were about six police cars that followed. They all were flying."
"He had to be going about 100," Jackie Haina said. "There were two troopers who were right on top of him, and then the other cars came behind after."
Rice and Haina both said that when they heard the sirens, they turned on their radio scanners to listen to the rest of the chase play out.
"When you hear the sirens, it always gets your attention," Rice said.
"We all listen to the scanners because there is usually nothing going on so when you hear the sirens and see the cars flying through, we turn to it," Haina said.
Vote on this Story by clicking on the Icon