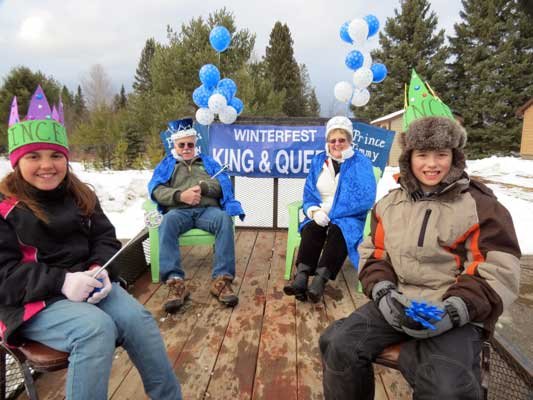 Indian Lake — The prince and princess for the 2013 Indian Lake Winterfest — Feb. 15-17 — each won an essay contest to earn their spots on the royalty float in the annual parade, sitting in front of King Ken Cannan and Queen Bev Cannan.
Emily DeShaw — the princess — and Jimmy Zumpano — the prince — are both students at the Indian Lake Central School.
Here are their essays.
Princess: Emily DeShaw
I would like to be the princess of Winterfest, because I like doing things for my community. I love living here because it's beautiful. It would be an honor to be a princess for a day. I also love representing my town. Being the princess of the Winterfest would be like taking it to the next level. Someday I would like to be the queen of the Winterfest.
I do some things for my community, like I'm a junior member of the American Legion Auxiliary. I also donated to the ASPCA for Christmas with the school and Girl Scouts. I'm in Girl Scouts, Church activities, and I'm Alter Server at Church. I love to march in parades and pick up garbage at the beach. I go to the library programs, swim lessons, earth club, cancer walks and I help in the community garden. Someday I would like to work at the beach as a lifeguard. Someday I would like to be the Town Supervisor, I know it's hard work, but I think I can Manage.
I also do CASMA which is a school singing program. I do some extracurricular activities too, like basketball, baseball, soccer, skiing, ice skating, hockey, and figure skating. I go to the ice fishing derby and the summer one too. I love to do town plays, Art Center plays and workshops at the Art Center. I have been skiing since I was 4 and a half. I have done five plays: "The Music Man," "School House Rock," "Charlie Brown," "Jungle Book" and "Peter Pan."
(Continued on Next Page)
Prev Next
Vote on this Story by clicking on the Icon