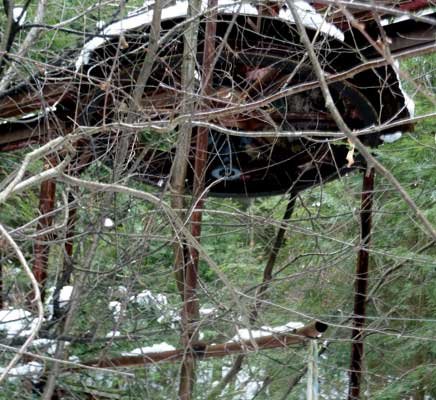 Soon, saplings began to encroach on the route and I had to bail. There wasn't much of a choice, so I headed for a small opening off the trail.
I hit hard and ended up crumpled like a lump at the base of a big cedar. It knocked the wind out of me.
A quick inventory revealed my skis remained intact and nothing was broken. However, there were certainly a few parts and pieces that were going to be sore. My ego was a bit bruised but not my enthusiasm!

As I grappled with a cedar to get back on my feet, it occurred to me; I grew up here in these woods, just like that tree.
I've never been accused of being a 'tree-hugger,' but as I wrestled with that tree to get back on my feet, I hung on just a bit longer, and I laughed a bit harder.
Maybe, a few years from now, I'll come back to visit with the tree again, to discover which of us has grown older.
Joe Hackett is a guide and sportsman residing in Ray Brook. Contact him at brookside18@adelphia.net.
Vote on this Story by clicking on the Icon