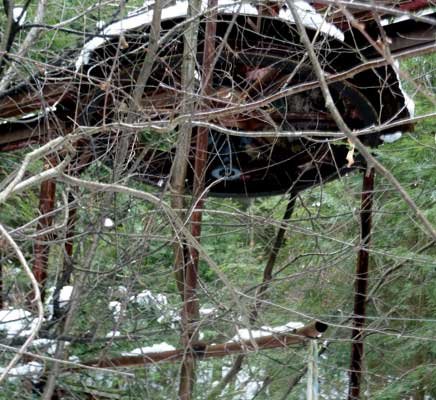 It was a cool, yet sunny day, and I couldn't wait to get on the hill. So, I strapped on an old pair of wooden skis and headed straight to the rope tow, operated by the property owner, Jeff Allot.
Like many locals, Jeff and his siblings grew up skiing at Otis. It's fortunate he's been able to revive the old haunts, to restore some sore ski legs and let some of us be kids again, if only for a day.
I stepped out of the line, and bent over to grip the old, wet rope. I squeezed it and with a jerk, I began a short journey back in time.
The ride only took about a minute, but when I reached the top of the hill, the old rope had transported me back to a different era.
It was exciting, and I could feel myself giggling.
I looked around nervously, trying to keep it contained inside, and hoping nobody would notice.
I first stopped to savor the view across the Pleasant Valley of the Boquet, with the cliffs of Cobble Hill looming in the distance. I knew that many things had changed, and yet it all looked so familiar.
For the moment, I was a kid again, back in a time of complete freedom, when my only problems were soggy mittens, a runny nose or the encroaching darkness that threatened an end to another day of fun. Nothing mattered, it was time to play.
After savoring the view, I continued climbing further up the slope to the top of the adjacent 'big hill', which had been serviced by a T-bar in my youth.
As I skied along the old connector trail, which was well grown over, it reminded me of many other things that had 'grown over' in the four decades since I had last been on the hill.
Joe Hackett is a guide and sportsman residing in Ray Brook. Contact him at brookside18@adelphia.net.
Vote on this Story by clicking on the Icon