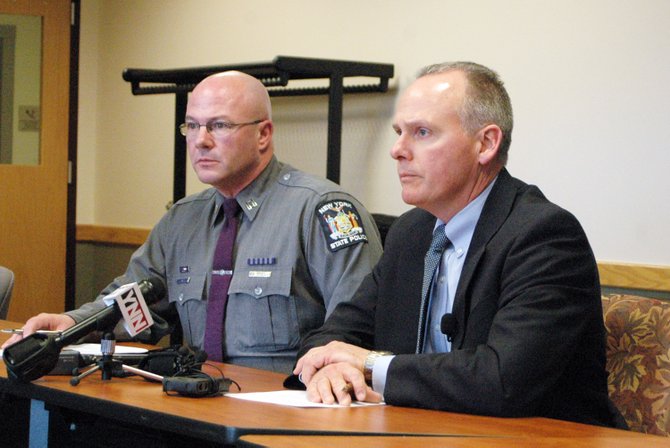 continued — "If the Troopers are capable of returning to duty, they will," Tibbitts said.
"There are a number of internal procedures and safety protocols to make sure that officers are fit to return to duty," LaFountain said.
Tibbitts said that the investigation into the incident is still in the preliminary stages.
"There's 110 steps in an investigation like this and we are only on step 10," Tibbitts said.
LaFountain said that Aubin had an "extensive, violent criminal history," including an arrest for robbery and conviction for second-degree assault.
LaFountain added that officers are trained to use their weapons only as a last resort.
"We try to use all other means to subdue a suspect," he said. "These things tend to escalate very quickly sometimes, but it is always the subject's actions that determine how we respond."
Throughout the day, investigators continued to examine the scene of the incident on Route 9 in North Hudson, just south of Liberty Road.
The troopers were assisted in the incident by DEC Police, Essex County Sheriff's deputies, the Moriah Police Department and North Hudson Fire Police, who handled traffic control in the area of the incident.
Vote on this Story by clicking on the Icon