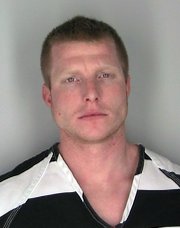 Lewis — Two New York State Police officers were involved in a high speed chase that ended with the suspect being shot and killed Tuesday, March 5.
Preliminary findings released by State Police on March 6 revealed that Richard J. "Joey" Aubin, 28, of Au Sable Forks was killed after trying to gain possession of one of the troopers weapons, according to BCI Capt. Robert LaFountain.
Aubin was first spotted traveling southbound on Interstate 87 at around 5:07 p.m. by police near the town of Schroon Lake.
Police allege he was speeding.
"He was initially clocked going 95 mph," LaFountain said.
Police chased the suspect southbound on the interstate until he exited south of Schroon, then traveled north on Route 9.
Police used spike strips just north of the intersection with the ramps leading to exit 29 to slow down the suspect's vehicle, and he then fled about 75 feet into the woods.
The two officers followed Aubin and engaged him. LaFountain said that physical force and pepper spray were initially used to try and subdue the victim, neither proving effective.
"The suspect violently resisted arrest," LaFountain said. "During the exchange, the suspect grabbed for a sidearm, trying to gain possession from the officer. The second officer then fired several rounds at the suspect, who expired at the scene."
The pursuit lasted roughly 25 minutes.
LaFountain said that the officers were taken to Glens Falls Hospital for treatment of injuries and released. The body was examined by Essex County Coroner Walter "Smitty" Marvin and released for autopsy, which is scheduled in Albany later today.
The names of the troopers involved in the incident will be announced at a later date, according to LaFountain. However, both he and Zone Commander John Tibbitts said the officers would be able to resume normal duties when ready.
(Continued on Next Page)
Prev Next
Vote on this Story by clicking on the Icon