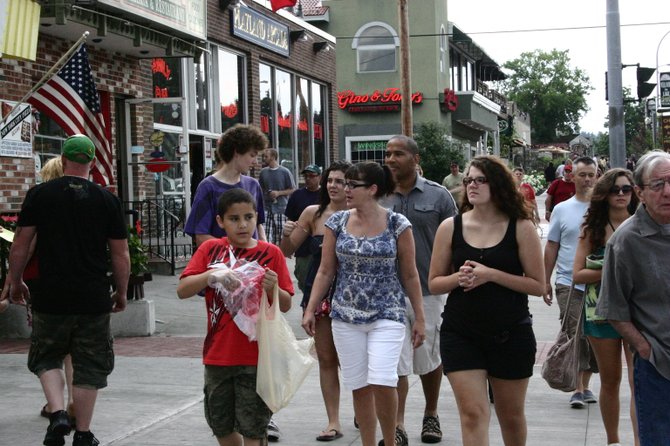 continued — Village officials said that many of the buildings' owners didn't have spare money to undertake major renovations.
This lack of cash could be offset in part through a program of streetscape grants and loans offered through a business improvement district or local development corporation, Blais said. such a program would spur storefront improvements, Blais said, citing existing programs in Glens Falls and Saratoga Springs.
He suggested that matching grants and low-interest loans be offered for storefront renovations. Glens Falls, he said, offers $12,000 grants for storefront improvements.
Blais observed that local businesses had shown substantial interest in forming a Business Improvement District, based on opinions expressed at a recent initial BID meeting that attracted 68 business owners.
"This is a very positive sign for the village," he said. "People are now stepping up to the plate and working together.
The next meeting of merchants interested in forming a Business Improvement District is scheduled for March 19.
Also, village trustees are considering enriching their property tax exemptions —which in the first year after a storefront upgrade allow a 50 percent reduction in the value of the upgrade, falling to 25 percent the second year and 5 percent for the next three years. The enhanced exemption would also begin at 50 percent, but reduce by only 5 percent per year — for a total of 10 years, Blais said.
Blais added that once a few store owners upgraded their facades, others would follow to retain their tourist traffic.
"These incentives could have a ripple effect, starting with people who take pride in their stores," he said.
"We can take a big step in making Lake George more attractive for developers," he said. "Lately, business owners are being very cooperative and very eager to assist us in accomplishing our goals."
Vote on this Story by clicking on the Icon