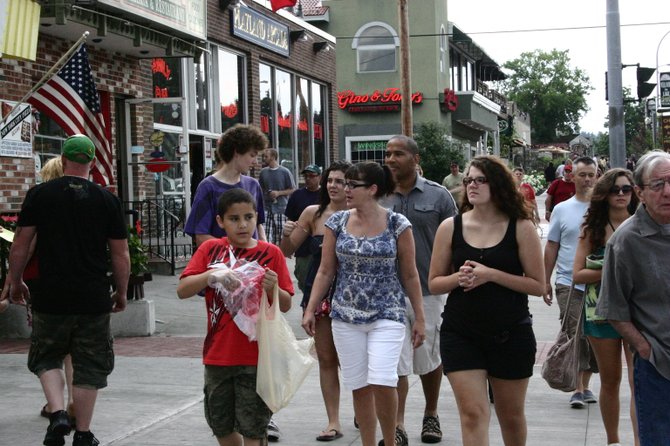 Lake George — In an effort to boost off-season tourism and enhance Lake George Village's long-term prosperity, municipal officials have been exploring initiatives including revamping their zoning laws, establishing a Business Improvement District, and expanding tax incentives for enterprises that upgrade their property.
Feb. 21, the village board of trustees, village planning board and zoning board held a joint meeting to devise changes to the local zoning ordinances that would make their goals a reality.
The tandem panels reached a consensus: to allow buildings up to six stories tall to be built in specified areas of the village, as well as establishing various new architectural and property development standards. The present height limit for buildings is three stories.
At the meeting, representatives of Elan Planning showed examples of architecture in the downtowns of Saratoga Springs and Lake Placid, and offered their recommendations.
Proposed zoning changes include prohibiting certain lower-grade building materials, specifying building orientation on properties, and setting architectural and appearance standards. Such requirements include allowing only earth-tone and historic colors, mandating that doorways be recessed, and that windows be appropriately spaced and sized.
Design standards would include prohibiting long, flat, blank walls and rooflines, and calling for the use of dormers, parapets, stepped roofs, balconies, cornices, plus wall offsets and recesses to create visual appeal.
The zoning amendment proposals are being drafted, and they'll be presented to the public at an informational meeting in March, village Mayor Robert Blais said.
At that time, the village board would vote on the provisions, and they'd go to formal public hearings.
It was noted that many of the commercial buildings in the village were originally houses, to which commercial storefronts were added to accommodate tourists — and many of these additions were substandard or tacky.
"Some of these places look just atrocious," Deputy Mayor John Earl said.
(Continued on Next Page)
Prev Next
Vote on this Story by clicking on the Icon