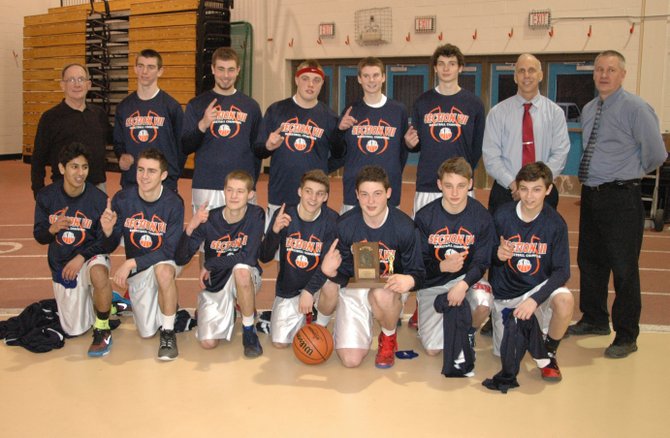 Plattsburgh — The AuSable Valley Patriots stuck to their game plan, playing aggressive defense and running the floor on offense to win the Section VII/Class C boys basketball title March 2.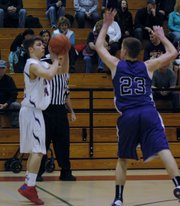 The Patriots jumped out to an 18-4 lead against the Ticonderoga Sentinels and put any thoughts of a comeback out of mind with a 15-2 third quarter as they scored a 53-24 win.
"We try to play hard and win games," Shane Douglas, who scored a game-high 15 points to go with seven rebounds, six assists and two steals, said. "This has been our focus all year and we worked hard in practice to get here."
"We pride ourselves on defense," Nate Casey, who scored six points to go with four rebounds, four assists and two steals, said. "That has always been our number one priority, and transition hoops has been our game all year."
"We came out strong to start the game and we came out strong to start the second half, and that is what our coach always tells us we need to do," John Goodnough, who scored six points with three rebounds, three steals, two assists and two blocks, said.
"It's great to work hard on the glass and on defense and then help get the ball started up the court," Austin Depo said. Depo scored six points while grabbing five rebounds, three steals and two assists.
"You cannot believe how hard they work in practice every day," head coach Jamie Douglass said. "They push each other and work hard because they wanted this. I ask them to do three things, contest each shot, deny each pass and box out on every shot. They also shot the ball extremely well, while Ticonderoga struggled shooting."
Douglass also said that his team has improved throughout the season.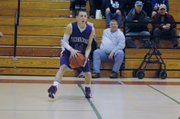 "Shane has matured so much and has taken over that role of a leader," he said. "Nate plays great defense, Austin does all those work-horse things for us."
(Continued on Next Page)
Prev Next
Vote on this Story by clicking on the Icon