continued — "They did a pretty good job penetrating and a lot of the shots they took in traffic found their way into the basket," Wildcats head coach Lee Silvernail said.
The Wildcats also missed their chance to take advantage of the offensive glass, grabbing 20 offensive boards compared to just two for the Vikings, both by Calkins. Overall, the Wildcats held a 36-18 rebounding advantage.
"We had the rebounds, but it seemed like we were unable to get good looks from those," Silvernail said.
The Vikings scored the first four points of the fourth quarter, stretching their lead to 39-25. The Wildcats were not going to go quietly, however.
"We called a timeout and I told them that they had four minutes to leave everything out on the court," Silvernail said. "They had just enough to pull up close to them, but in the end we just could not get over the hump."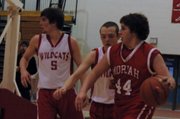 Jeff Armstrong started the comeback attempt with a three pointer, which was followed by a pair of triples by Tanner Stone.
At 46-35, the Wildcats got a free throw from Shaughnessy, who then assisted Joe Maisonville on a layup. Armstrong then hit a three-pointer and was fouled on the shot, converting on a rare four-point play to cut the lead to 46-42 with 38.4 seconds remaining.
Mike Mero converted on a free throw with 37.3 seconds remaining for a 47-42 edge, and Shaughnessy then scored a basket to pull the Wildcats within three points with under 20 seconds remaining.
On the inbounds, Shaughnessy stole the ball and went up for a basket, missing but getting fouled with 11.3 seconds left on the clock. He was unable to convert on either free throw, and Brassard pulled in the rebound for the Vikings, getting fouled in the process. Brassard then stepped to the line and connected on both free throws, sealing the upset of the third-ranked team in the state for Class D.
Vote on this Story by clicking on the Icon