Plattsburgh — The Schroon Lake Wildcats were not going to do down without a fight.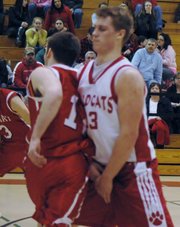 Trailing by 14 early in the fourth quarter, the 'Cats scratched their way back to within three points of the Moriah Vikings in the Section VII/Class D championship game March 2, but were unable to convert on key free throws and turnovers as the Vikings scored a 49-44 win.
"They don't ever want to make it easy," Vikings head coach Brian Cross said after the game. "Our screen-roll worked well today, but it was our defense that won the game for us. We were able to stop Jesse (Shaughnessy) from getting to the basket and keep an eye on their shooters. When they came back, it was because we started to lose those shooters."
The ability to penetrate the opposition defense was a key to the game, as Moriah was able to score points in the paint on drives by Viking guards while the Wildcats struggled.
"We wanted to stop their penetration and we came in here wanting to run screen-roll," Adam Jaquish (nine points, five rebounds, one steal and three blocks) said.
"We wanted to stop Jesse on their penetration plays and keep to their shooters," Derek Brassard (seven points, three rebounds, two assists and two steals) said.
"They were being aggressive just like we were," Jessup Calkins (six points, five rebounds, one assist, one steal and two blocks) said. "We had to come out playing hard and strong on both sides of the ball."
"We looked to set the plays up, but early in the game we realized that we could penetrate and that worked for us the rest of the game," Tyler Pratt, who led the team with 10 points to go with two rebounds, two assists and three steals, said.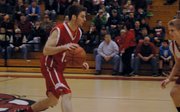 "We took what they gave us and found our opportunities as they came in the game," Cross said. "We have scouted each other a lot so you have a good feeling that your set plays are not going to work when you know each other that well."
(Continued on Next Page)
Prev Next
Vote on this Story by clicking on the Icon