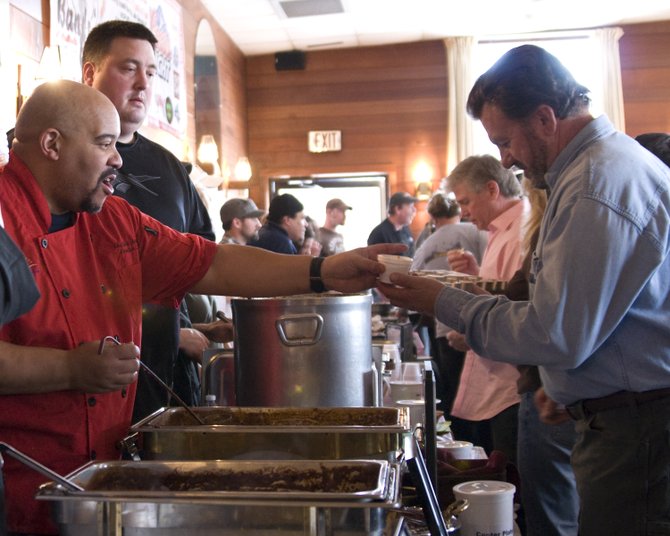 continued — Last year's chili contest award winners were Giovanna's at the Georgian Resort in Lake George; Market Place Steakhouse and Frederick's Restaurant, both of Bolton Landing; Vic's Tavern of Northville; and UpRiver Cafe of Lake Luzerne.
They'll be defending their titles against new entries from the Barnsider BBQ, Bean's Country Store, Bella's, Bogey's Pub & Grille, Caffe Vero, Center Plate at Gore Mtn., Davidson's Restaurant, Docksider Restaurant, Druther's Brewing Co., Duffy's Tavern, Dunham's Bay Lodge, East Cove Restaurant, Garnet Hill Lodge, Gourmet Café, Log Jam Restaurant, Melba Mae's Riverview Inn, Olde Post Grille, O'Toole's Restaurant, Pete's Ahh, Ranchero's Steakhouse, Samantha's Café, Sans Souci, among others.
The event includes a raffle and a silent auction featuring a variety of items from local businesses. Raising up to $20,000 per year for the Arts Project, the event is the non-profit group's largest fundraiser, Arts Project Director John Strong said.
"People just love getting out and seeing each other again after a long winter," he said. "The event now has a life of its own."
Admission is $20, and tickets are available at the door. For details, call 668-2616 or visit: www.lakegeorgearts.org
CUTLINE: "BandsNBeans_2013_ChefsJPG"
caption: Chefs of area restaurants dish out servings of their distinctive varieties of chili during the 2012 Bands 'N Beans event — sponsored by the Lake George Arts Project.
Photo by Cheri Bordelon, Creative Gumbo Photography
Vote on this Story by clicking on the Icon