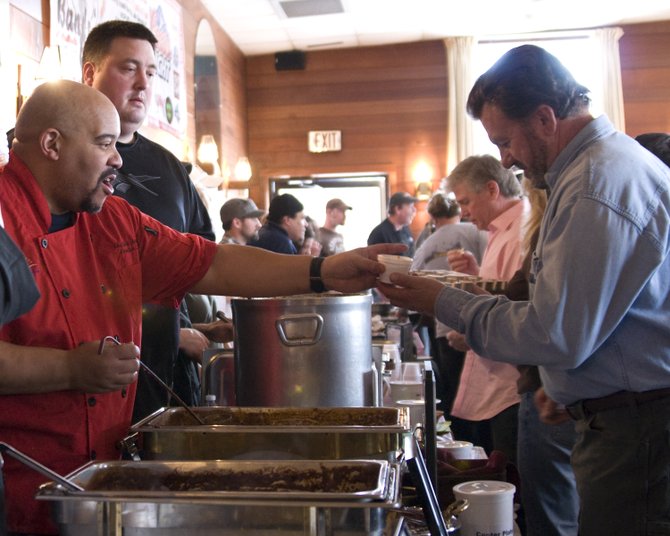 LAKE GEORGE — What started out 21 years ago as a local get-together of friends of the arts — a party spiced with mountain music and down-home food — grew over two decades into an annual orgy of music, dancing and chili that surpasses superlatives.
In recent years, Bands 'N Beans — crowned as northern New York's "mother of all parties," has featured wall-to wall people primed to have a great time as they celebrate the end of winter.
This landmark fest of homegrown music and creative chili is to be held from 2 p.m. to 7 p.m. Sunday March 3, at Roaring Brook Ranch — its traditional site.
For 2013, Bands 'N Beans — a fundraiser for the Lake George Arts Project — features nine bands performing on two stages. Selected by musicians, the bands represent a wide range of rock genres.
About 50 restaurants and individuals have registered to cook up chili for the event, which now draws 1,000 people or more.
For many years, the Stony Creek Band and other regional acclaimed bands have packed the house and definitely rocked it too. The music ranges from country-rock, rhythm and blues, to folk-rock and bluegrass as well as hard-driving party rock.
For 2013, Stony Creek Band is back with a talented, eclectic lineup that includes Rich Ortiz & Friends, Big Fez & the Surfmatics, Rattail Jimmy, Master Cylinders, Shadowland, Chris Ballini, Rick Rourke, and Tim Wechgelaer & Friends.
The event's chili is annually tantalizing and creative as professional chefs and outstanding cooks vie for awards and bragging rights.
The recipes, as diverse as the music onstage, have included rare varieties of chili peppers and unusual spices and meats and spices — including ostrich, elk and venison.

Raising up to $20,000 each year for the Arts Project, the event includes a raffle and a silent auction featuring a variety of items from local businesses.
(Continued on Next Page)
Prev Next
Vote on this Story by clicking on the Icon