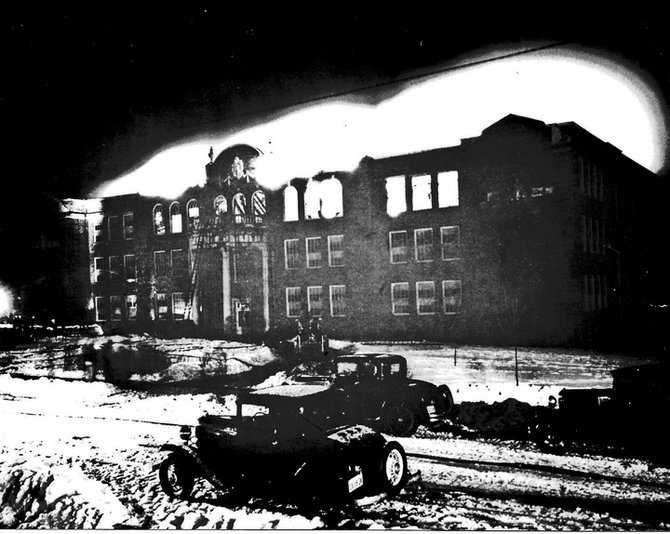 continued — John McDonald, today's Ticonderoga Central School superintendent, said the community's commitment to education and the high school was obvious during an expansion and renovation project a few years ago.
"During our (renovation) project the architects couldn't believe the quality put into this building," McDonald said of the high school. "They agreed the building is so solid it hadn't moved an inch off its original foundation. It says a lot about the community commitment to the school."
He noted the detail given to cast iron plates that hold the school auditorium seats in place. Each one is inscribed with "THS."
"Every item was important," McDonald said.
Ticonderoga High School was placed on the National Historic Registry in the 1980s.
Evidence of the 1933 fire still remains, although it's not visible.
"During the construction project they (workers) pulled back some sheet rock and the bricks behind it were black," McDonald said.
The 1933 Ti High fire was such a major event, the Albany newspaper sent a reporter to town to cover it, then "rushed several hundred extras up here containing news of the disastrous school fire."
The local Ticonderoga Sentinel didn't appreciate Albany's sudden interest in the community, noting the "Albany rag" got the story all wrong. After pointing out a series of mistakes in the Albany report, the Sentinel concluded, "The Albany sheet, however, was correct on one detail. The fire did occur in Ticonderoga!"
While the Ti High blaze was one of the most significant in community history, it was not the largest.
March 31, 1875, much of Ti's downtown was leveled by fire. Buildings at the intersection of West Exchange Street (now Montcalm Street) and Champlain Avenue fell victim to the blaze. According to Joseph Cook, a Ti community leader at the time, 28 buildings burned.
"Most were older buildings, made of wood and tar," Dolback said. "Once the fire started it spread quickly. It's the biggest fire in Ti's history."
Ticonderoga suffered through two other major downtown fires. March 18, 1953, the Ticonderoga Inn burned, killing five people, and June 1, 1953, the Burleigh House was destroyed.
Vote on this Story by clicking on the Icon