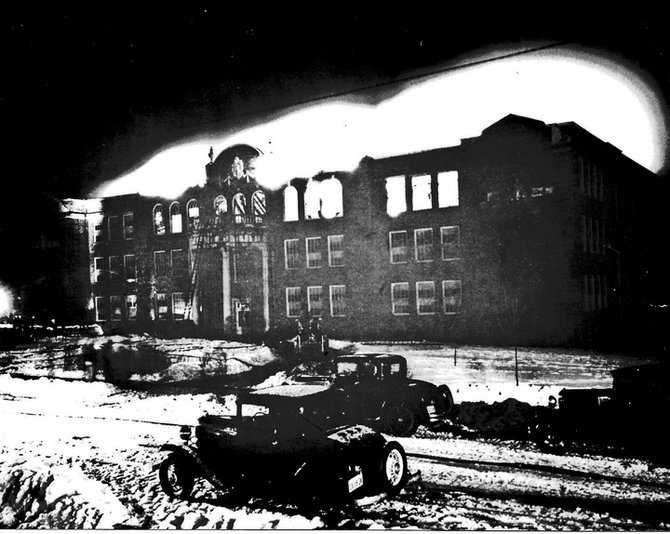 Ticonderoga — It was 80 years ago that Ticonderoga's "proudest possession" was nearly lost.
The new Ticonderoga High School was almost destroyed March 9, 1933, by a roaring fire battled for hours by Ti and Port Henry firefighters.
Ti High had opened to students in March 1930 after being constructed at a cost of $500,000. It was billed as the community's "proudest possession." That $500,000 project equates to about $6.9 million today.
The fire caused more than $200,000 in damage and forced students to attend "split" classes at the old school, which was located at the site of the present day Ti EMS building between The Portage and Champlain Avenue. Some classes were moved to churches and other buildings in the community. The $200,000 in damages equals about $3.5 million today.
According to the Ticonderoga Sentinel newspaper, the fire began in a trash chute in the boiler room in the school's basement.
"A terrific draft swept the flames up the chute like wildfire, and smoke and flames jetting from the wooden cupola atop the building were noticed by a passerby, who turned in the first alarm," according to the Sentinel.
The fire damaged nearly the entire building.
"The fire consumed the cupola which crashed to the roof of the building," the Sentinel reported. "The roof ignited immediately and the flames spread to the third floor, which was occupied by the cafeteria, laboratory, study hall, domestic science departments and classrooms. Two high decorative brick walls, extending from the roof, crashed to the already over-laden floors below, carrying the flames to the corridors and rooms on that level."
Lost in the fire was the school auditorium, which had become a focal point of community events.
"The beautiful auditorium, the costliest and most beautiful feature of the building, is a mass of ruins," the Sentinel read.
Not all the news was bad. Firefighters were able to save the school's musical instruments, valued at $1,000, and the school gymnasium was only slightly damaged.
(Continued on Next Page)
Prev Next
Vote on this Story by clicking on the Icon