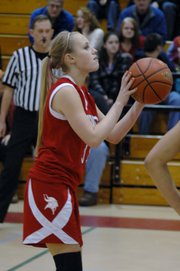 continued — Cassavaugh added four points, one rebound and two steals, while Savannah Graves also scored four points to go with four rebounds and a blocked shot.
"It has been really fun, and I am glad that I have had the opportunity to play with this team," Graves said. "It feels good to win this title."
Angel Barnes scored the final two points of the game for the Lions off an assist from Jenn McGinn. Kearsten Ashline added two points, three rebounds, an assist and a steal.
Jasmin Barnes, who missed last year's title game against Indian Lake/Long Lake due to injury, contributed with three rebounds, three steals and an assist.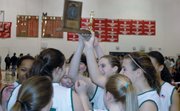 "It was good to be part of this team for the past two years and to get to play in this game and win," she said.
Emily Morris, who returned from Nicaragua two days before the game, had two rebounds and an assist.
"While I was gone, you realize what you have and cherish everything when you come back," Morris said. "It was great to come back to my friends and the team and winning made it that much better."
For Moriah, Lauren Pelkey scored 12 points to go with seven rebounds, three assists and two steals. Taylor Sprague added seven points, two rebounds and a block; Madison Stahl had four points, three rebounds, one steal and one block; Sarah Slattery had four points, five rebounds and a steal; Lauren Cross two points, three rebounds and a steal; Halie Snyder two points and two rebounds; Val Wykes two points, three rebounds and an assist; and Caitlin Pelkey one point, one assist and one block.
"They stretched us out well defensively," head coach Steve Pelkey said. "The girls have been playing better throughout the year, but we had a lot of nervous kids out there for this game. I am very proud of the way that they played all year long and we felt that anything we got after the sectional semifinals would be icing on the cake. We will cherish this run and learn from it."
The Lady Lions (19-1) travel to Potsdam Tuesday, March 5, to face Section X champion Hammond at 6 p.m.
Vote on this Story by clicking on the Icon