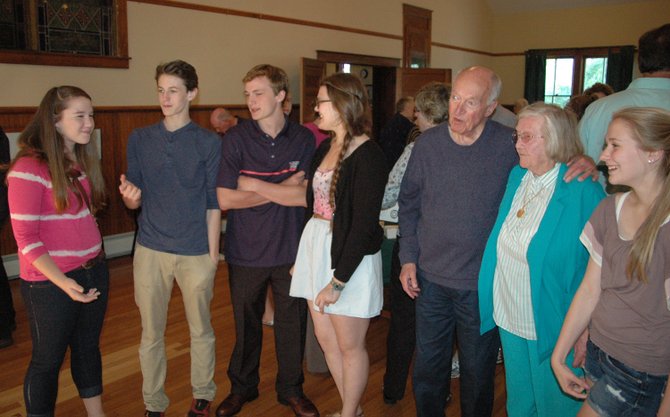 continued — "I personally got to hear a lot about my family history in the town," Viens said.
"It was really fun and a lot of hard work to complete the project," Rascoe said. "It helped me learn more about Westport's history."
"I learned a lot about the town, too," said Mudie. "I think that the stories that were collected were great. It's a great project because if we do not record stories from people like this, then they are going to get lost."
Brant and Knowles attended the event and got a first look at their starring roles on the screens at the Heritage House.
"I hope that it is something people can enjoy," Brant said. "I was talking with a couple of people, and I looked up real quick and there I was on the screen."
"It is an honor to be a part of this," Knowles said. "My family goes back several generations in the town. My grandfather came back from the Civil War with one arm and built mills all over the area. To me, he is a hero."
The videos will be on display in the Heritage House during normal hours: 10 a.m. to 3 p.m. weekdays, 11 a.m. to 3 p.m. Saturdays, and 1 to 3 p.m. Sundays. For more, visit the website, westportheritagehouse.com.
Vote on this Story by clicking on the Icon