continued — Jacques said she talked with the class about where Afghanistan was and what it meant for them to be so far away from their families. Then the class sent packages to the soldiers, which included items Jessica told them the two needed as well as a couple of presents from the children.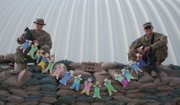 "We have Snuggle Puppy, a 'pet' that the kids get to take home on the weekends," Jacques said. "We got the boys their own Snuggle Puppy. We also made these little people out of paper. We sent them out and they sent us pictures back with Snuggle Puppy and the people."
The class also received a thank you from the duo.
"Dear Mrs. Jacques's Pre-Kindergarten Class," the response that accompanied one of the pictures said. "Thank you very much for the care packages that you all have sent to us. We appreciate all the hard work you have put into them. It makes our day a little happier when we get a package in the mail. Thank You, Senior Airman Matthew Sayward, Staff Sergeant Jacob Reynolds."
Jacques said that both soldiers are supposed to return to the North Country in the next week and she hopes they will be able to meet with the students even though the school year has ended.
"We are trying to get something together with the parents," she said. "It would be a great way to end this for the kids and for them, as well."
Vote on this Story by clicking on the Icon