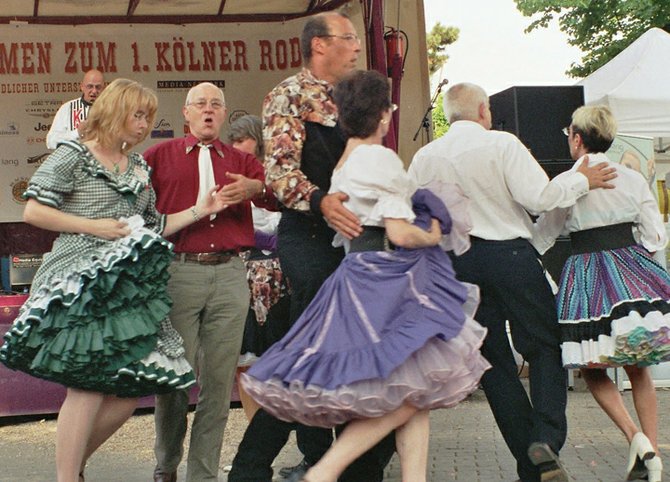 Schroon Lake — "Promenade across the floor
"Sass shay right on out the door
"Out the door and in to the glade
"And everybody promenade"
It's unlikely Bugs Bunny will show up to perform "Hillbilly Hare," but square dance enthusiasts will again have an opportunity to swing their partner and do‑si‑do in Schroon Lake this summer.
The community will again host square dances on Wednesday nights 7 to 9 p.m. near the band stand in the town park. Ed Lowman will direct the dances, sponsored by the Schroon Lake Chamber of Commerce, for the 35th year.
The Schroon Lake dances are free and will feature various guest musicians and callers.
Entertainment will be provided by Gail Griffith July 10, Fern Bradley July 17, John and Trish July 24, Fern Bradley July 31, Paul Rosenberg Aug. 7, John and Trish Aug. 14, Gail Griffith Aug. 21 and Fern Bradley Aug. 28.
The dances are old‑fashion square dances with swing your partner and do‑si‑do.  Some circle dances and reels are also called.  A crowd favorite is the "Zodiac."
"Come enjoy dancing or bring your chair and listen to the music of the fiddles, guitars, banjos, penny whistles and see others dancing or come learn how to dance," said Rosemarie Ritson of the chamber. "The Schroon Lake square dance musicians, callers and guest musicians will teach you how to dance.  No experience is necessary."
Square dancing has been a part of American social life for centuries. Traditional square dance was central for generations of Americans, especially in rural communities. In the post-World War II era, modern square dance had millions of participants.
Despite its popularity, the history of square dance has not been well documented although it has been traced back to the 14th Century.
Vote on this Story by clicking on the Icon