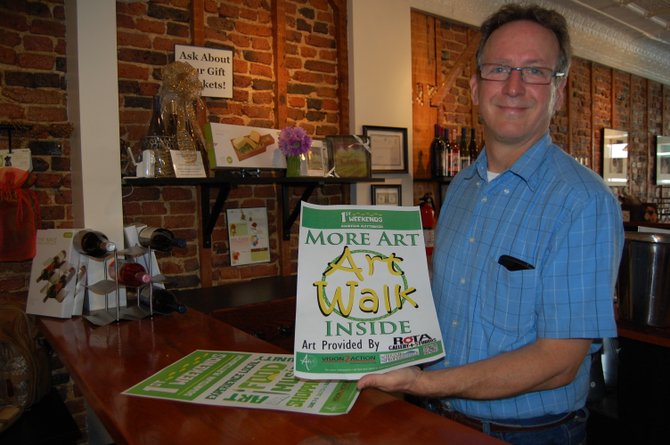 continued — "Everyone who wants to participate can be a judge," said Owens.
During first weekend the NCCCA will also be staying open till 7 p.m. on Friday and Saturday to allow visitors and community members the opportunity to check out their current exhibit, the Summer Member show, which includes artwork from 40 different artists. There will also be children's themed activities in the gallery.
The ROTA Gallery will be joining with the NCCCA and will also be aiding in decorating the downtown by drawing the attention of pedestrians into the local businesses for an art walk. Maps will be available at the NCCCA for both the art walk and the chalk art.
Music In the Streets
McCormick said the ADKYP will provide volunteers to help facilitate the event and has taken charge of creating the sound for the weekend.
"A lot of people don't know you do not need a permit to play music in downtown Plattsburgh, we want to facilitate a downtown with artists playing every weekend," said McCormick.
"We're bringing back Lowell Wurster with members of the band Lucid, and a lot of great acts," said McCormick. "We want artists from professional to someone who just plays for fun to come out and show people in Plattsburgh the talent in this town."
Jay LeSage will perform in front of Glens Falls National Bank, Giovanina Bucci will perform in front of Cheechako Taco, Ben Bright will play in front of the Strand Theater, and many more performers will be on hand, McCormick said.

Family Fun
City Hall Place will be closed from Bridge Street to Court Street from 2 to 5 p.m., during which time there will be an explosion of family fun activity.

The CVTM and Kids' Station will be downtown on Saturday from 2 to 5 p.m. showcasing a 1939 Firestone bicycle built by the Huffy Company along with activities for children. The CVTM also invites children of all ages to discover a world of bubbles by creating bubbles with household items, experimenting with bubbles, and other exciting bubble activities.
Vote on this Story by clicking on the Icon