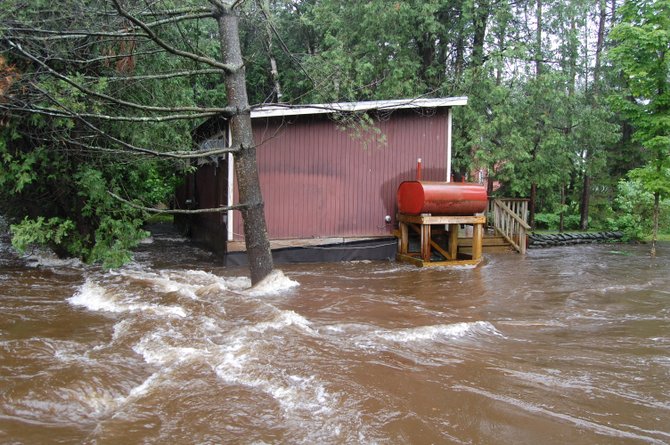 continued — Charmain Fenoff said the basement of her salon, Charms Hands Spa-Salon was flooded at 10 a.m.
The National Weather Service issued a flood warning in the Essex County through 6 p.m. on Friday.
Jaquish said the Red Cross was preparing to open up the Elizabethtown-Lewis Central School as an emergency shelter.
As of noon, the Essex County website listed the following roads closed:
Chesterfield: Corlear Bay Road.
Elizabethtown: County Route 8 from Brainard Forge to Route 9, Foot Bridge Lane, Gilligan Lane, Hurricane Mountain Lane is closed from Bridge Street to 9N, Megsville Roud, Scriver Lane, as well as Noble Terrace and River Street.
Jay: Carey Road, Hesseltine Road and Hazen Road intersection, Jay Mountain Road, Lincoln Hill Lane, Nugent Lane, and Stickney Bridge Road.
Keene: Bartlett Road and Bartlett Bridge is closed until further notice with detour routed through Limekiln Road, Beede Lane, Holt Road, Hulls Falls Road, and St. Huberts Road.
Lewis: Carlott Road, Fox Run Road is closed at the intersection with Cutting and Roscoe.
Minerva: Northwoods Club Road.
For full listings of road closures check out the Essex County website at www.co.essex.ny.us/PublicSafety.asp.
Anyone with concerns should call Essex County Dispatch at 873-2116.
Vote on this Story by clicking on the Icon