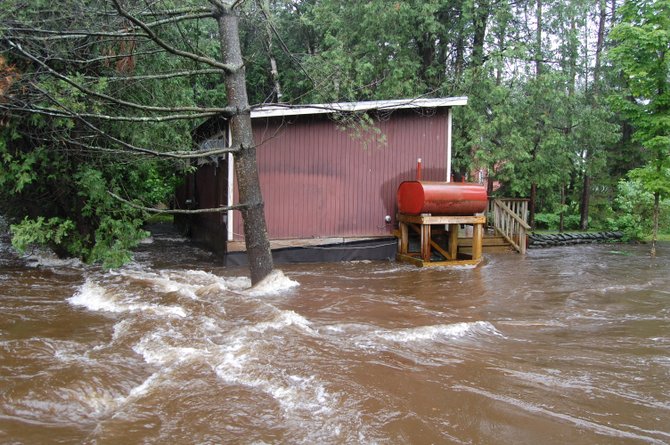 Elizabethtown — Heavy rainfalls and rising rivers led to road closures all over Essex County Friday, June 28. In Elizabethtown, Route 9 near New Russia was closed as well as River Street in downtown Elizabethtown.
The Boquet River's shoreline reached the edge of Route 9 by 10 a.m., causing state highway workers to close the road to anyone but local traffic. Along the same route the entryway to Otis Lane was submerged under a foot of water.
"People have been coming in and telling me how the flooding has reminded them of Irene and other storms," said Postmistress at the New Russia Post Office, Sandy Denton.
In Elizabethtown, the Branch was smashing into the bridge's bottom on Water Street. Causing the section of River Street near the bridge and Noble Terrace to be closed to traffic on Friday morning. By 1 p.m. the roadways were both reopened.
Donald Jaquish, Director at Essex County Emergency Services, said officials of the emergency services office and sheriff's department were asking families along the river and the trailer park off of Noble Terrace to evacuate as water climbed toward the base of the homes there.
"We are suggesting anywhere you can see the river people should get out, it's better to have people out first before something else happens," Jaquish said. "People and their safety are our first concern and property second."
River street resident Carla Whitney said she had already left her home after watching water surround her car and fill the basement of her apartment building.
"The water was coming up around my car, I called up my landlord and he told me I should get out of the house, by the time I hung up the phone the water was getting higher around my car," said Whitney. "If you walk across the bridges you can feel it. It wasn't nearly this bad last night but already I can see it's not as high as it was."
(Continued on Next Page)
Prev Next
Vote on this Story by clicking on the Icon