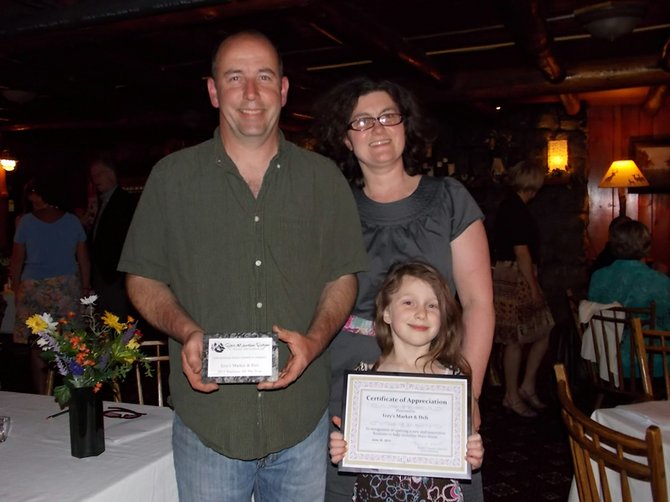 North River — The common theme among speakers at the June 20 Gore Mountain Region Chamber of Commerce's annual dinner at the Garnet Hill Lodge was the crucial role of creativity and entrepreneurship in building a healthy economy and in the Adirondack Park.
"The basic point of my talk is that I believe we are living through the scariest and most exciting time in the history of the Adirondack Park," said guest speaker Brian Mann, the Adirondack Bureau Chief for North Country Public Radio.
Mann, who lives in Saranac Lake, has been living and reporting in the Park for 14 years and began his career as a journalist working in Alaska. He explained that throughout rural America, economic growth and prosperity has traditionally been tied to land development. However, over the past 40 years, the restrictions on development rights in the Park had been counterbalanced by state jobs and monies in the form of grants and aid. This amounts to a tacit "social contract" that has broken down since the state's fiscal troubles, beginning in 2008 and 2009, he said. Since then, many state and municipal jobs have been eliminated, shrinking school budgets have cost many teachers their jobs, and competition for available grants and aid has increased as the money has decreased.
"The necessity of coming up with alternative ways to prosper and grow is breeding remarkable creativity as new types of business flourish, and this is what makes this such an exciting, hopeful time for the Park," Mann said. "Business owners are working hard to build an economy on the wild, beautiful spaces that surround them."
It's a positive sign to see how many entrepreneurs are willing to risk capital by developing new businesses in the Park, Mann said.
One such business, Izzy's Market & Deli, was awarded the 2013 Business of the Year by the Gore Mountain Region Chamber of Commerce. They opened on May 25, 2012 and are located on Main Street in North Creek.
(Continued on Next Page)
Prev Next
Vote on this Story by clicking on the Icon