ADK Carousel to host Summer Gala
SARANAC LAKE — Adirondack Carousel Summer Gala will host their Kick off event the ADK Arts & Heritage Festival at the Adirondack Carousel, Corner of Depot St. and Bloomingdale Ave.
The event will kick off with street performers, live and silent auctions, artistic food and local beer tasting, live music & dancing with the Tri- Lakes Community Jazz Ensemble.
The festival will begin at 6:30 and go through 11p.m. on June 28.
For more information call 891- 9521.
Garcia Project to play at Waterhole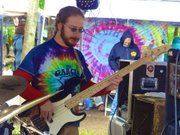 SARANAC LAKE — The Garcia Project, will perform at the Waterhole, 48 Main Street, 10 p.m. +21. on June 28
The Saratoga Springs based band creates The Jerry Garcia Band Experience with members Mik Bondy on guitar and vocals, vocalist Kat Walkerson, bass player Dan Crea, drummer Aaron Martin, keyboardist Greg Marshall, and visual artist Drew Suto.
The Garcia Project faithfully channels and projects the feelings, emotions and music that propelled the Jerry Garcia Band and the fans through many years of musical bliss. Its about family, soul searching, rejoicing, contemplating, celebrating, seeking truth and loving one another. Its The Garcia Project.
Kat Walkerson adds heartfelt and soulful female vocals to the mix. She brings an awesome energy to the project and you can feel her love for this music though her singing. Kat has performed with Melvin Seals and JGB.
Mik Bondy fills the "Jerry" role with modesty and an understanding that no one can replace Jerry. A long time Jerry-head, Mik enjoyed the last few years of Jerry's life following the JGB around whenever he could. Recently, Mik has performed with Melvin Seals and the guys from JGB Band.
(Continued on Next Page)
Prev Next
Vote on this Story by clicking on the Icon