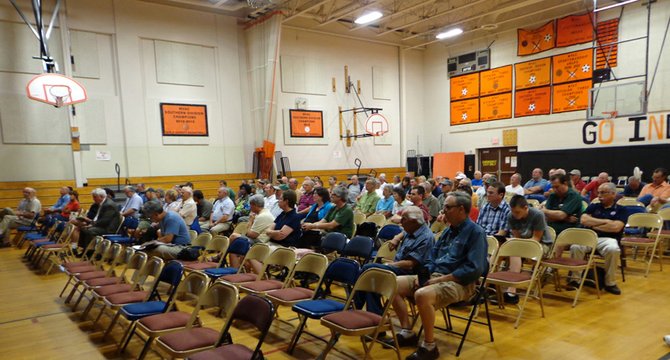 continued — Finally, Spada pointed to the historical value that exists within the confines of these lands and how it might be capitalized upon culturally and economically for the growth and enrichment of the surrounding communities as a historical recreational hub, perhaps in conjunction with an organization such as the Adirondack Museum.
Tracey Eldridge said that when he graduated from the Indian Lake Central School some years ago, the graduating class numbered around 40 students. He pointed to the fact that the graduating class on June 22 numbered only 20, saying that this is a barometer of what is happening to Indian Lake and most of the communities in the Adirondack region. Access is necessary for people to see and appreciate the beauty of what is here, and when they do, they tell others and they visit the region.
"The only reasonable classification is Wild Forest with intensive use on the currently existing roads," Eldridge said.
Following up on this point, many other comments surrounded the issue that the lands under consideration for classification have been used by humans for over 100 years and making the claim that "man's footprint" is clearly on the lands in question.
Minerva Town Supervisor Sue Montgomery Corey said these lands represent a "working landscape" and asked the APA to classify these lands in a way that honors what local officials believe was Gov. Cuomo's promise: that this land purchase would increase the economic opportunities by promoting unparalleled, all-access, year-round, four-season recreational activities for residents and visitors.
Perhaps the message of the community to the Governor, the APA and the NYSDEC was best summed up by the comments of former Hamilton County economic development and tourism director Bill Osborne, of Lake Pleasant, in support of a Wild Forest designation:
"Forest Preserve is in the best shape ever, but our communities are in the worst shape. It is time we cared about the most endangered species — the Adirondack resident. There may be a lot of good reasons for Wilderness, but I can tell you, economic development is not one of them. We can deal with the usage issues in the UMPs."
Once the APA approves a classification for state land in the Adirondack Park, the state Department of Environmental Conservation is in charge of drafting a Unit Management Plan (UMP) for it.
Other remaining APA hearing dates include:
•July 1 at the Harley School, Rochester - 7 p.m.
•July 2 at DEC headquarters, Albany - 1 p.m.
•July 2 at Warren County Board of Supervisors Room, Queensbury, 7 p.m.
The deadline for written comments is July 19. Written comments should be mailed to: James E. Connolly, Deputy Director, Planning, P.O. Box 99, 1133 State Route 86, Ray Brook, NY 12977.
Vote on this Story by clicking on the Icon