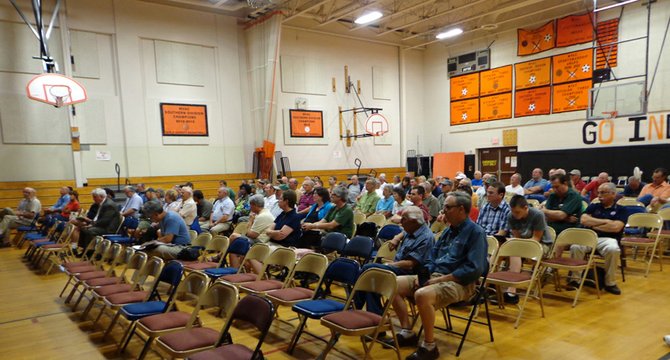 continued — Indian Lake Town Councilman John Valentine said the protection of the Adirondacks is not only land and water, but it's the communities.
"I am an environmentalist, but not a protectionist," Valentine said.

Valentine said if people walked the Indian Lake Main Street, they would notice there are at least a dozen vacant commercial properties in the hamlet, not the least of which is the one that housed the town's former market.

"Forty percent of Hamilton County is already classified as Wilderness," Valentine said.
Valentine made a strong appeal for a Wild Forest classification and for consideration that the area south of the Cedar River and west of the Hudson River be envisioned as the southern gateway to the lands in question. As such, he made a strong appeal to reopen the Chain Lakes Road back to where it once crossed the Cedar River, allowing for a significant impact on the surrounding communities' economic future through "increased visitors, recreation opportunity and economic opportunity."

Valentine said the town of Indian Lake has a legitimate claim to the Chain Lakes Road that goes back to the 1880s. He also contended that these public hearings were suffering from a lack of public transparency, "not letting the public have access to judge the land, while asking the public to comment without access and proper assessment time."
Indian Lake resident and Gooley Historical Society proponent Lou Spada pointed out that the towns' populations are decreasing as students graduate and leave to find jobs. He said the communities have suffered from many of the Forest Preserve classifications.
"The decisions being made on this land classification are life-altering," Spada said. "The land should be accessible by all potential users and not just a small few. If the governor is serious about economic development, then the classification must be Wild Forest. We would not have to cut one tree. The roads and trails that already exist have existed for over 100 years, but there are some who would now tell us that we can no longer use the land."
Vote on this Story by clicking on the Icon