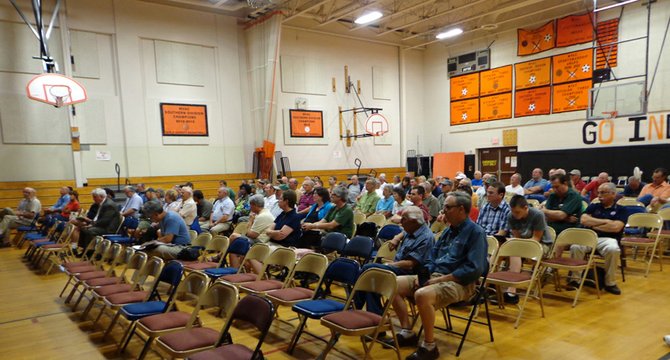 Indian Lake — Adirondack Park Agency (APA) officials held another public hearing on the classification of former Finch Pruyn lands on Tuesday, June 25 in the Indian Lake Central School gymnasium, which was well attended by local residents.

Also in attendance were officials of town and county governing bodies. As expected, interest was extremely high, and this was attested to by the fact that more than 40 of the attendees offered public comment and the hearing ran from 6 p.m. to nearly 10 p.m.
For all but a handful of those making comments, the message was clear: residents and local leaders of Indian Lake and four partnering communities (Long Lake, Newcomb, Minerva, North Hudson), banding together as the Upper Hudson Recreation Hub, want to see the classification of the former Finch Pruyn land as Wild Forest.
"When is enough, enough?" asked Indian Lake Town Supervisor Brian Wells. "I will not be satisfied with anything less than a Wild Forest classification … any other classification will be economically detrimental to the five communities bordering this land."
APA officials presented seven different classification options for recently purchased state land that was previously owned by the Finch, Pruyn paper company located within the towns of Minerva, Newcomb, and Indian Lake. They include the Essex Chain Lakes (17,320 acres), the Indian River (925 acres), OK Slip Falls (2,780 acres), and Open Space Conservancy Tract (160 acres). The surrounding areas of the Vanderwhacker Mountain Wild Forest, Blue Mountain Wild Forest, and Hudson Gorge Primitive Area are also up for reclassification.
Bill Farber, chairman of the Hamilton County Board of Supervisors, addressed the attendees, saying that he was there to listen to the comments of local residents "because no one knows these lands better." He then stressed that the economic viability of the surrounding towns should be the focus of these classifications.
(Continued on Next Page)
Prev Next
Vote on this Story by clicking on the Icon