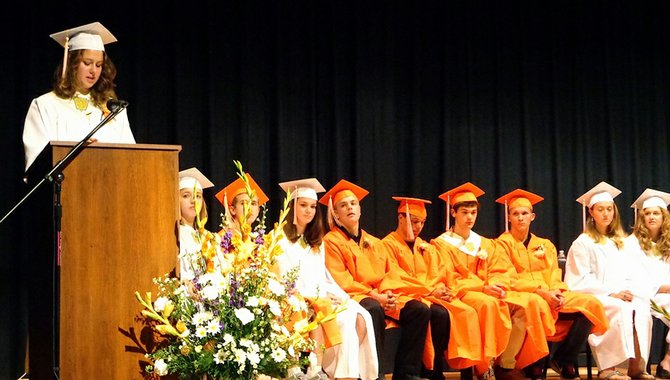 Indian Lake — High school graduation is an excellent time for seniors to stop and look back on just how far they have come — a time to celebrate successes and reflect on what has been learned from mistakes. The June 22 graduation at Indian Lake Central School was just such an occasion.

The ceremony kicked off with a video that first celebrated the history of the Class of 2013 and then transitioned into the lives of the individual graduates. It was literally like watching the class and the individual students grow up right before the eyes of family and friends in attendance.
Salutatorian Sydney Stearns Hinckley addressed the graduates and attendees with an interesting analogy between the life of Marilyn Monroe and the nature of the Class of 2013. Hinkley pointed to the ups and downs of the life of Marilyn being analogous to the successes and setbacks of the graduating class through the years. She made the point that each made the class stronger and wiser.
Valedictorian Morgan Lena King focused on the special closeness of growing up in a small town and how it meant that each of the 20 graduates had the privilege of knowing each other in a way that was not possible in a larger environment and the sense of community that it spawned amongst the class members. She closed her address by remarking how she looked forward to remaining close with each of her fellow graduates and being truly excited over learning what each were going to do with their lives.
The graduates then assembled at the foot of the stage and performed a moving rendition of a song entitled "Home." Afterward, School Superintendent Mark Brand began his address by focusing attention on and appreciation for the parents, teachers, advisers and PTSO members, who were so instrumental in making the graduation of these 20 students possible. He drew distinction of the differences between the lives of students today with those who, like him, went through high school in the early 1970s. Of course the differences were astounding given the inroads of technology and social media, but he also focused on the similarities in the goals and dreams of the students in both eras.
(Continued on Next Page)
Prev Next
Vote on this Story by clicking on the Icon