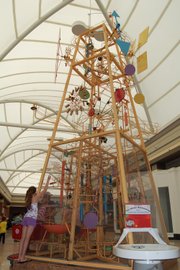 Plattsburgh — Members of the Champlain Valley Transportation Museum are working quietly behind the scenes to keep the iconic mechanical "Gizmo" chugging along at the Champlain Centre Mall.
"We took on the project of bringing it back to life a year ago and now we've been working hard to keep up with it," said Lisa LaFountain, director of fundraising and membership at the Champlain Valley Transportation Museum (CVTM).
Gizmo, or known to some as the "Ball Machine," is a large working mechanical sculpture that visitors to the mall can sit and watch as the mechanical arms push billiard-style balls down chutes and metal wires and through various obstacles to come to a stop at the bottom, only to travel back up to the top via a bike chain elevator to take the journey once more.
The Gizmo has been an attraction at the mall since the Centre's opening in 1986. It was created by George Rhoads, who is better known for his large audiokinetic sculptures that attract and engage people throughout the world. In his sculptures, Rhoads strives to make his mechanisms easy to understand in order to demystify technology. His machines have no use other than to engage people in their play, according to a press release by the CVTM.
"The kids have to come and see it every time we come here," said Greg Sakata of Lake Placid. "We have to watch it for at least 10 minutes or so, they love it."
Sakata's four kids each pick their favorite colored ball and watch as it's taken to the top of the mechanical sculpture and wait to see whose ball makes it to the bottom first, Sakata said.
Dave Napolitan, general manager at Champlain Centre said the CVTM has done a great job bringing the machine back to its glory days.
(Continued on Next Page)
Prev Next
Vote on this Story by clicking on the Icon