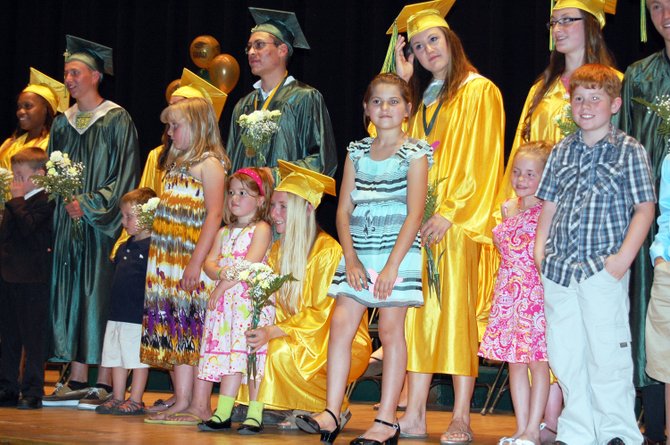 Elizabethtown — Seniors at Elizabethtown-Lewis Central School gave their final bow to their school district at the school's 75 commencement ceremony on June 21 in Huntley Auditorium.
Photo Gallery
ELCS graduation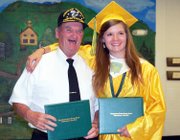 Pictures from the Elizabethtown-Lewis Central School commencement June 21.
The 27 graduating seniors sat front and center before their families and friends as the speeches praised the class of 2013. Superintendent of Schools Scott Osborne said he was very proud of the students.
Along with the class of 2013, the experience was shared with former ELCS student Harry Denton. Denton was awarded an honorary diploma through Operation Recognition, which authorizes school districts to grant a high school diploma to any honorably discharged veteran who served in the United States military during World War II, Korean Conflict or Vietnam War.
Denton said he was very happy to finally graduate.
Salutatorian Brittany Tomkins pulled off her cap and apologized for the heat.
"As a class we have definitely come a long way," Tomkins said. "In elementary and middle school we had a reputation for being a challenging class to say the least. For example, in sixth grade neither class had a teacher because Mrs. Wachowski and Mrs. Thompson were both out halfway through the year. So one class played silent ball all year while the other made their substitutes cry. Literally. But when we hit high school, we managed to turn things around and I'd say we cleaned up pretty well."
Tomkins examined her time at ELCS through her favorite subject of studies, film.
"For those of you who don't know me, I am obsessed with movies, so I'll draw on them for some words of inspiration," said Tomkins. "To quote Tony Stark, 'Sometimes you gotta run before you can walk.' We're all going to experience new things whether we're going to college or going to work after graduation. We only have this platform to jump off of and hope for the best. Unfortunately none of us have an Iron Man suit to catch us. That's a shame."
(Continued on Next Page)
Prev Next
Vote on this Story by clicking on the Icon