Willsboro — Linda Jacques was part of both the opening and closing chapters for the Willsboro Central School Class of 2013.
As the kindergarten teacher in 2000, she welcomed the children into the former school building as her students. Now a Pre-K teacher and guest speaker at the June 21 graduation, she wished them farewell as graduates in an emotional commencement address.
Photo Gallery
Willsboro graduation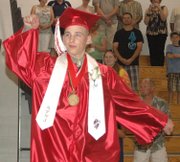 Pictures from the June 21 commencement ceremony at Willsboro Central School.
"When I see the finished product of the class of 2013, I see many of the strengths and abilities that you began with in kindergarten," Jacques said. "The class of 2013 will always have a special place in Willsboro as well as in my heart."
Jacques commented on the fact that this class was the last group of students to be a part of the former school building, which is now the Champlain Valley Senior Community.
"You were the last class to run around my classroom and play in 'the pit,'" Jacques said. "Now, the old building has a new purpose and I think that we can all learn a lot from that. Don't let anyone stop your vision of what you believe is possible. Go out and do something and make a difference."
School Superintendent Stephen Broadwell told the 19 graduates to work hard in their pursuits.
"If you give it your all, amazing things will happen, but rarely will they happen exactly as you expected," Broadwell said. "You have completed one phase in your life, and we wish you luck, success, happiness and health as you graduate."
Class valedictorian Gabrielle Coonrod told her classmates to be open to change throughout life.
"I have had several different occupations that I was convinced were made for me," Coonrod said. "For years I was determined that I was born to be a police officer, live in a hotel in Maine, and drive a Jeep. As the years passed, I developed into the person that I am today. Along with my changing characteristics and priorities, my life goals transitioned. A career path was chosen and my future goals set a pathway for the person that I still hope to become. And even now, as we all know who we plan to be, I ask you to be open to change. Be yourself and find what it is that is right for you and you alone. Leave here tonight and remember the fact that we all change our minds a few times. Sometimes, it is what makes us successful as an individual."
(Continued on Next Page)
Prev Next
Vote on this Story by clicking on the Icon