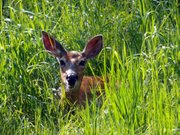 June has always been a great month for outdoor travelers, and especially for kids. It is a month that has delivered freedom from the daily drudgery of schoolwork, as it ushers the exhilaration that arrives with the prospect of a long summer's vacation.
June of 2013 has also been a unique month, bringing with it a total of five complete weekends, rather than the usual four. In fact, most students only toiled for a total of 20 days during the month of June, 2013, compared to an average of 23 or 24 days in a typical month of school. For the seniors, June of '13 signaled the end of their high school career.
In addition to breaking loose from the educational calaboose, the month of June also delivers the opening day of Bass season, and a weekend of free fishing on any public waters in New York state.
The free fishing weekend arrives Saturday, June 29-30. It provides an ideal opportunity for Mom, Dad or a friendly Uncle to get the kids outside and introduce them to an entertainment system that does not require batteries or an electrical outlet. A fishing pole is the best X-Box Detox tool ever invented. With a big fish on the end of a fishing rod, most kids realize it is safe to leave the electronic entertainment at home.
Any child who grows up in the Adirondacks without the proper equipment and the knowledge of how to enjoy the local woods and waters is at a severe disadvantage.
Likewise, any parent who fails to provide a child with the proper equipment and the knowledge of where and how to use it, is guilty of recreational neglect.
In many of our local communities, there are precious few recreational opportunities for our youth. There are very few safe or appropriate "hangouts."

Joe Hackett is a guide and sportsman residing in Ray Brook. Contact him at brookside18@adelphia.net.
(Continued on Next Page)
Prev Next
Vote on this Story by clicking on the Icon
More like this story