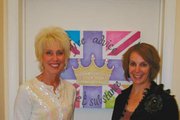 Dear style & substance:
My question is about different spousal views of retirement. My husband, in his late 50's, with a lot of life left in him, recently retired and I am still working in a successful small business. My issue comes from differing opinions about financial security, ambition and togetherness in work and as a couple. I realize we have never discussed the "next phase" of our life. How do you think we should find common ground?
As my Uncle Roger (Michele's) used to say, "You are never late until you get there." In that paradox there is truth. Once we arrive at a passage in our lives, we often realize we did not adequately plan, or even if we did, we change and grow and our expectations change and grow as well. You recognize that you are now 'there', at that passage from active work to retirement; and creating a fulfilling life with your partner presents new challenges. So, how do you find the common ground you seek?
A great first step is sharing with your partner what you want, or think you want, in a clear and positive manner while respecting/understanding that his ideas about retirement may differ from yours. We would advise that you take time to brainstorm and explore this on your own, rather than just begin to ramble about it. A point to consider is that he may need a little time to decompress if his life's work has been draining him. To achieve common ground, the focus should be on your needs as a couple, with individual needs secondary to this. You may be far more ambitious than your partner at this point in your respective lives. Acknowledge this, but do not feel the need to have the same level of ambition. The goal here might be to understand each other's ambitions and to work towards mutual support.
(Continued on Next Page)
Prev Next
Vote on this Story by clicking on the Icon