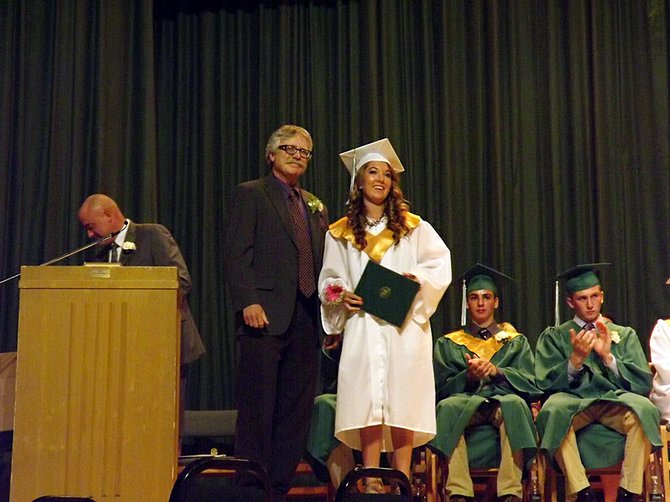 Minerva — Minerva Central School graduated 12 on Friday, June 21 with Patsy Sullivan delivering the commencement speech.
The school also honored School Board President Michael Corey and third grade teacher Patti Gonyo, who are retiring from their positions.
In her opening speech, the Class of 2013 salutatorian Aleynah Gardinier compared her graduation to a kaleidoscope, a jumble of images and memories past. Her metaphor carried through the rest of the ceremony, which was filled with stories and anecdotes about the graduates' time together at Minerva.
Sullivan, who taught art at MCS until 2010, had many fond memories to fill the kaleidoscope. This year's graduates were the last high school class she taught before she retired. In her commencement speech, she recalled the unconventional relationship she had with them as ninth graders, trying to teach art history. Friday doughnuts and what one student dubbed "random dance parties" helped Sullivan bond with the class while trying to teach art history, a memory which both she and the Class of 2013 held quite dear.
"I loved their energy and quiet resolve," Sullivan recalled. She went on to describe how the times in which we grow up shape us, drawing on her experiences during the 1960s — characterized by desires for peaceful change — and wondering what the future of a group that grew up in an age of corporate greed and terrorism might hold. Most of all, Sullivan wanted to make sure that the graduates "lived a life with purpose." She drew upon advice from a book, "I Will Not Die an Unlived Life," by Dawna Markova, to try and set the students on that path.
Sullivan illustrated the point with a wooden sculpture that spelled out "Live," which she broke down into four components; "L" for love, "I" for inner gifts, "V" for values, and "E" for the environments that bring out our best. She challenged the students to take those aspects of their lives and share them with the world.
(Continued on Next Page)
Prev Next
Vote on this Story by clicking on the Icon