continued — "I spent more time at school than in my own house," she said. "The last four years laid the foundations that will enable us to make the most of our lives, establishing ourselves as thinking, competent, influential members of society," she said.
Mackenzie Baertschi and Emma Underwood spoke about the school community and area citizens.
As an athlete, she recalled the support from not only the faculty and staff, but from the citizens of Lake George, as well as surrounding communities.
"What better town is there to live in?" she asked.
Class Vice President Tyler Prime presented a gift to Vicky Greene.
"She's always been a great source of guidance and knowledge — and she's been a great friend," he said.
He recalled the campaign to win the state boys basketball championship.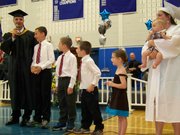 "The basketball team's season touched the whole county and brought us all together," he said.
As he offered advice to the graduates, Dee also referred to entire class as well as the determined season-long effort of the boys basketball team that concluded in the New York State Class C championship.
"Find your passion, and give it your best effort," he said. "Success comes to those who never quit — and this is a group of students who never quit!"
Senior Robert Leombruno announced that the class charitable gift would go to Double H Hole in the Woods Ranch.
"There are those who will never experience the feeling of walking on this stage and receiving a diploma," he said, referring to the Ranch's young campers who face life-threatening illnesses.
Principal Fran Cocozza, who annually offers a surprise presentation at graduation ceremonies, employed his five children to exemplify stages of development, based on the Sound of Music theme song, "Do-Re-Mi."
At prior ceremonies, Cocozza plunged from a gym wall, sang a rap song with a student and had a group of Lake Georgians, from age five through senior years, offer the graduates advice.
In concluding his presentation, Cocozza borrowed a theme from the Sound of Music.

"Wherever you go and whatever you do, never forget where you've been," he said. "Remember your roots, past, community and school."
Vote on this Story by clicking on the Icon