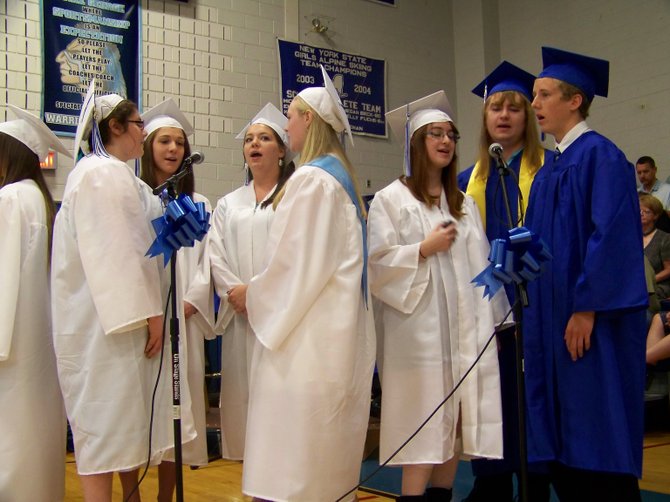 LAKE GEORGE — Waiting to lead a procession of faculty members into the gymnasium for commencement ceremonies, Lake George Superintendent of Schools Patrick Dee looked down the hallway at the seniors garbed in satin graduation robes.
"The Class of 2013 is a very cohesive, hard-working, high-performing group of students, and we'll miss them," he said.
Not only was the class academically outstanding and community oriented, he said, but several of the class members were on the team that proved their character and determination in winning the Class C championship in basketball. Also, a team of Lake George students, including several seniors, won a national award from the Future Business Leaders of America, he said.
"We are all so proud of their accomplishments," he said.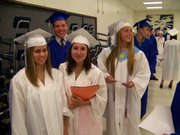 Soon after, top honors students at Lake George offered their thoughts during the ceremony. Mason Gentner and Amber Ruther, in their speeches, focused on the future.
"The challenges we'll face after today will determine our character and prosperity," Gentner said. "Have the confidence to think for yourself and the audacity to express your ideas no matter how original. Don't be afraid to take risks and question methods."
Ruther said that her fellow graduates could apply the problem solving skills they acquired in school to solve society's prevailing problems including violence, corruption and poverty.
"Never doubt that a small group of thoughtful, committed citizens can change the world," she said, quoting Margaret Mead. "We can take our time and talents to mold the world as we choose — all it takes is dedication."
Aftab Bhatti and Hahnah Saroff spoke on the topic "Transitions."
Bhatti said one's route through life was achieved one small step at a time.
"Like a staircase, use your past to help you get to the future," he said.
Saroff said her life in the past 17 years had revolved around Lake George Central.
(Continued on Next Page)
Prev Next
Vote on this Story by clicking on the Icon