Keene Valley — Keene Central School Superintendent Cynthia Ford-Johnston described the school's graduating class of 2013 as "one of the more unique classes to graduate from Keene" during the June 22 commencement.
She was soon proved correct.
Photo Gallery
Keene graduation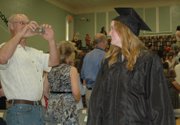 Pictures from the June 22 commencement at Keene Central School.
Class salutatorian Victoria Patenaude took to the stage, urging her classmates to be "superheroes."
"I believe all of us are capable of something extraordinary," Patenaude said. "I think that we already strive to be superheroes ... dare to be a superhero and you just might find yourself being the best you that you can be."
Patenaude then started to recite several slogans and expressions, which did not go unnoticed by one of her classmates.
"Torey, the first part of your speech was good, but now it's turning into a string of cliches," interrupted class valedictorian Sam Balzac.
Patenaude agreed and turned the microphone over to Balzac, who seemed surprised that he was supposed to speak.
After saying his "rough draft" included a dress and juggling pins, Balzac then said he felt graduations should be more like the Oscars.
"You have this music start paying in the background," Balzac said as music indeed started to play. "And the valedictorian comes out and sings this really cheesy song about the class. And since a lot of the seniors at Keene have been here since kindergarten, they would ..."
That's when the Keene Central School valedictorian started to sing his valedictory speech.
Balzac serenaded the class and those in attendance with the accolades and adventures of the class and how they were ready to graduate and move on in life, ending to a standing ovation from both students and audience members.
"Thank you, for not leaving when this got weird," he said later.
The two class speakers continued with their Oscar-style show, giving out awards for best facial hair, best school slogan and others, along with taking a moment to remember classmates who had moved away, much like an award show's, "in memoriam," segment.
(Continued on Next Page)
Prev Next
Vote on this Story by clicking on the Icon