Clintonville — Families, friends, teachers and classmates gathered to celebrate graduation of the class of 2013 at Ausable Valley Central School on June 22.
Photo Gallery
AVCS graduation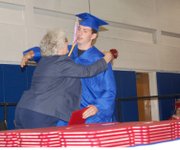 Pictures from the June 22 commencement ceremony at AuSable Valley High School.
The 82 students were led in to the AVCS gymnasium by bagpiper William Long.
"We're very proud of our graduates, at AuSable Valley Central School," said Superintendent Paul Savage. "You've earned this day and we're thrilled to be a part of this, soak up this day and every moment and don't forget where you came from, once a Patriot, always a Patriot."
Savage told the graduates no matter what, the people who came to support them and their school would always be there for them in the future, though the students would graduate it wouldn't be good bye.
Salutatorian Nicklas Makowski spoke to his classmates and said the many adventures students had gone through had shaped who they have become.
"All of our time here has led up to this moment," said Makowski.
Valedictorian Evan Maicus took to the stage to say his time at the school helped nurture him to be a free thinker.
"High school is a magical place full of mind bending theatrics. If I, as a high schooler, feel a caterpillar can be great, that is my business and with a school system like ours based on tolerance, you best let me be," said Maicus. "If I happen to believe I am a caterpillar all power to me. For those of you who followed that, thank you for being supportive. For those of you who didn't, I think I'm a caterpillar," said Maicus.
Maicus went on to say to his classmates that though they enjoyed their time at AVCS it is their right to leave.
"It is our job to never forget what we are doing here, in this land where we can have our cake and eat it too, lots and lots of cake," said Maicus.
(Continued on Next Page)
Prev Next
Vote on this Story by clicking on the Icon