Schroon Lake — Mountainside Christian Academy awarded degrees to four graduates during its 36th commencement exercises June 15.  Family, friends, MCA faculty and students were in attendance to show their support and witness the graduation of John T. G. Andryuk, Matthew J. M. Legacy, Cole B. McNally and Elora M. Sabatini.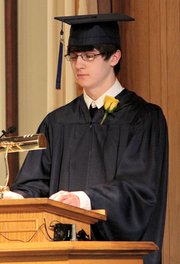 The seniors marched up the aisle to the tune of "Pomp and Circumstance," played by Debbie Bensen.  The ceremony began with pledges of allegiance to the American flag, the Christian flag and the Bible and the corporate singing of "America the Beautiful." 
After Rev. David Peterson delivered the invocation and welcome, Conni Phillips, MCA principal, introduced each of the graduates in alphabetical order, which also happened to be the order in which they began their education at MCA.  Phillips included a Bible verse chosen by each student as well as each of their plans after graduation.  She announced that this year's graduating class could be characterized by their kindness to each other and their fellow students. 
This was followed by John Nelson, representing Word of Life International presenting each student with a Bible.
McNally delivered the salutatory address, pointing out to his fellow classmates that following graduation they will have many choices to make that will impact them for the rest of their lives in either positive or negative ways.   They will need to decide if they will "follow God or do things the world's way" while relying on their own abilities.  He explained that fear, worry or pride could get in their way of submitting to God and following his plans as they move on to college.
After the salutatory address, the graduates presented framed certificates to their parents expressing thanks.
Andryuk, valedictorian, began his address with the phrase, "your reputation precedes you" to emphasize that one's reputation can be formed by the goods deeds done or by the poor choices made.  He warned the graduates that as they leave Mountainside, "we should all be extremely careful, so that we are not defined by our mistakes."   As they go off to college, their reputation would be forged by the choices they will make along with their actions; these would help determine their future.  Andryuk used his grandfather as an example of one whose life left a mark on the many people with whom he came in contact and was later affirmed at his funeral as over 900 people came to honor  him.  He concluded with a desire that his own legacy, as well as the reputation of the other graduates, would be one of godliness and hard work.
(Continued on Next Page)
Prev Next
Vote on this Story by clicking on the Icon