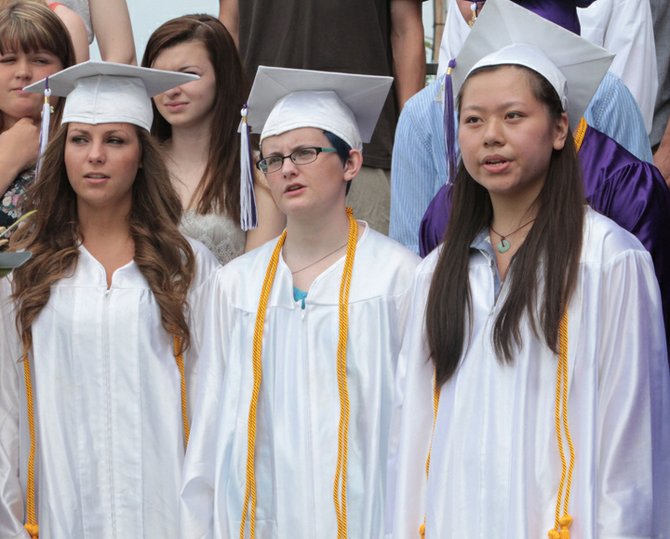 continued — Ticonderoga High School's Class of 2013 is certain to have great success in the future, believes Wen Na Zhang. What's important is that graduates remember their roots.
Zhang, the class salutatorian, urged her classmates to stay true to their heritage during commencement exercises June 22. Quoting Paulo Coelho, Zhang said, "The secret to happiness is to see all the marvels of the world and never forget the drops of oil on the spoon."
"The drops of oil represent our values, our family, our home, and who we are," she said. "Some of us are entering the military. Some of us are entering the workforce. And some of us are going off the college. But wherever you go, I ask that you remember where you come from, I ask that you remember the 'drops of oil on the spoon,' because that is where you will find who you are."
Zhang also took time to acknowledge parents and teachers for their contributions to the class.
"For 18 years, they have lived and breathed solely to see where we would end up today, many times giving up their own happiness just to put a smile on our faces," she said of parents. "They stood right behind us, waiting to catch us when we stumbled and sometimes even when we fell. They structured themselves so that we could be safe and comfortable in this dangerous world.
"No matter how much we complained and whined, especially about the horrid senior projects, our teachers continued to encourage us, knowing that one day, their efforts would pay off," Zhang said. "And they have. The evidence is right here with us today. Thank you teachers for doing all that you do. And I know that you have become like family to many of us, in the classroom and on the field."
Zhang concluded by challenging the Class of 2013.
"Before I end here today, I would like to ask one more thing of you and that is to continue to set goals and continue to dream because this is just the end of the first chapter of our story; the real journey is only just about to begin," she said.
Ticonderoga graduated 57 seniors. The ceremony included the presentation of awards and scholarships, presentation of lowers to graduates and musical selections.
Vote on this Story by clicking on the Icon