Ticonderoga — The future is uncertain, but that's OK.
Riley Chapman, valedictorian, urged his classmates to look forward without worry as he spoke at the Ticonderoga High School graduation June 22.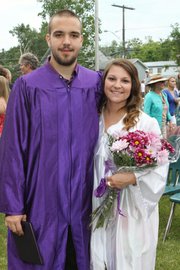 "At some point in the past four years you likely have asked and tried to answer the question: what in the world am I going to do with my life?," Chapman said. "And there is a good chance you have come up with an answer by this point, or at least a temporary solution. It is probably not perfect or complete, it doesn't have to be.
"The last four years, well 13 for some of us, have been great, but I think you would agree they have been rather predictable," he continued. "School...in Ti, and then some more school...in Ti, and then we moved, to the high school...in Ti. You see, for the first time in your life you get to go out and create your on world. You get to choose what you're interested in, pick who influences you, decide many aspects of how you will make your world. Today, you become world makers.
"However, leaving behind predictability means facing the unknown, and the unknown can be very intimidating," Chapman said. "I'm sure you remember how intimidating the high school seemed at our eighth grade promotion. How on earth were we going to find our way around? It's over three stories tall!"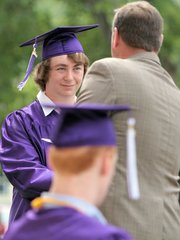 The valedictorian told classmates to have confidence. Things will work out.
"Now you face another round of uncertainty, and I urge you to tackle all the unknowns that come up," he said. "At times, you may be tempted to turn back, but it pays to keep going, to work hard, and to trust that in your future the dots will connect.
"It may not be clear which path you are on, but you strive to continue," he concluded. "Strive to see new sights, and find new places, meet new people. Strive to go on, to find whatever it is that pulls you to the end of this trail. Then, maybe then you will have lived life to its fullest. But, if we're all going to be honest with ourselves, I have to admit that figuring out what comes at the end of the path was never the point in taking a path to begin with. So, carpe diem, seize the day, and enjoy your journey."
(Continued on Next Page)
Prev Next
Vote on this Story by clicking on the Icon