Schroon Lake — The Schroon Lake Central School Class of 2013 is right where it should be, according to valedictorian Dan Maisonville, ready to serve others.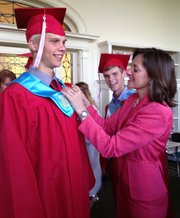 "We have been created to primarily serve, love and care for others and we have each been given unique characteristics to enable us to fulfill this purpose," he told classmates during commencement exercises June 21. "We have been placed on earth to make a difference in people's lives.
"As I have spent time with you, my classmates, I have come to see the unique characteristics and attributes that each one of you have: generosity, encouragement, compassion, diligence, joyfulness, leadership, supportiveness, integrity, industriousness and patience," Maisonville said. "Each of you has been gifted with attributes and characteristics that are needed in people's lives. The world needs you to serve them, care for them, and make a difference through your compassion, encouragement, leadership, and joy.
"You have already done this in my life through serving me, caring for me and being who you are," he said. "I encourage you to continue to utilize your strengths and abilities, who you are, to serve others and make a difference, just as many of the individuals tonight have done for us. By doing this, you will see great and amazing things happen in your life and the lives of others."
The valedictorian also thanked those who helped the class reach this point — parents, family, teachers, coaches and community members.
"As a class we have spent a great amount of time together and have developed a deep camaraderie and have a number of things in common," he said. "However, one of the most important characteristics that we all have in common is that we are only able to be here tonight because of the care, love and investments of many different people including our parents and families, our teachers and coaches, our community and the Lord."
(Continued on Next Page)
Prev Next
Vote on this Story by clicking on the Icon