Port Henry — The Moriah Central School Class of 2013 graduated as a group, but it's important to remember they are individuals.
That was the message delivered by valedictorian Dallas Rich during commence exercises June 28.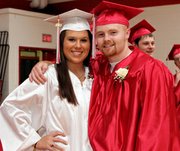 "School is the first place most of us learn about the world," Rich said. "We learn to wait in line, we learn to take turns, we learn we are good at some things and we learn we are not so good at others.

"We also learn to accept and appreciate others and ourselves for who they are," he continued. "And sometimes, you get to learn things about yourself that you never even knew! But in the end, we realize we're not all the same and that each of us has a different personality that'll lead us in different directions."
But while graduates will pursue a variety of futures, they'll share common memories, Rich noted.
"We'll always remember our individual stories about this place, a place that became part of us along the way," he said. "We'll remember the fun stuff, like the end-of-the-year kickball games with Mr. McCaffrey, or the annual volleyball tournament And we'll remember the not so fun times, like the sudden realization that you need to finish that book that you haven't started by tomorrow, or that you have a speech to write."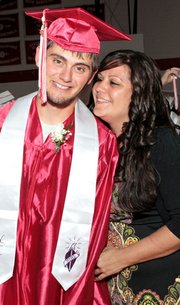 And while those memories will remain, they may not be the most important thing graduates carry forward, Rich said.
"In a few years, we'll look back at our senior year and laugh at how the most trivial things seemed so important," he said. "And most importantly, we will always remember our teachers who, throughout our time here, always expected the best from us and yet persevered when we were at our worst.
"As we leave here today, each of us will embark on our own journey down very different paths," Rich said. "This small part of our lives is over, and we are heading out to meet our future. Like our teachers it is time for us to expect the best, and persevere through the worst. Let us take all that we have learned here — anticipation and hope, tolerance and patience, fun and responsibility — and use them well."
(Continued on Next Page)
Prev Next
Vote on this Story by clicking on the Icon