Crown Point — Graduation can be a time of reflection, but not for Gabe Macey.
The Crown Point Central School valedictorian urged his classmates to look to the future during commencement exercises June 21.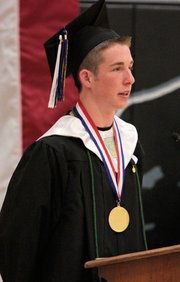 "Nobody gets to live life backward. Look ahead, that is where your future lies," Macey said in his valedictory address, quoting Ann Landers. "I could stand up here and reflect on the past four years of our lives, from winning sports titles to enjoying class trips, but instead I'm choosing to talk about the next four years.
"These next years mark the start of a new quarter in our game," he said. "It does no good looking back on what we would've, could've or should've done. Instead we must look to what we can and will do. Our years in high school have been stepping stones for the years that have yet to come. It has helped us to develop into the leaders of the future."
Macey then spoke about the importance of being a true leader.
"People tend to associate having a lot of skill and power with leadership," he said. "Unfortunately, people who take advantage of the power they have and abuse or misuse it rarely have much influence. Failing to realize that a true leader is one who gives all the credit and takes all the blame, they tend to take any credit for themselves without any recognition of the contribution from others.
"We can be so quick to boast about ourselves and lose sight that some of the best things in life cannot be earned, but are given," Macey said. "If we will realize this and give credit where it is due, to whom it is due, the influence and leadership we will develop in the lives of others will be life changing."
The valedictorian urged classmates to always think of others.
(Continued on Next Page)
Prev Next
Vote on this Story by clicking on the Icon