continued — "I want to help people in some way," Alessandra said, noting that she would enjoy helping create new vaccines or aid in developing cures for illnesses or designing new prosthetics. "I want to be part of a team that improves peoples' lives — and give them new hope."
Valedictorian pursuing medical career
Also pursuing studies in the medical field is North Warren Valedictorian Christiaan Van Nispen, enrolled in George Washington University. His goal is to be a physician practicing emergency medicine.
In his speech, Van Nispen urged his classmates not to sit back and let things happen to them, but to go out — putting any fear aside — and make them happen.
"Opportunity is missed by most people because it is dressed in overalls and looks like work," he said, quoting Thomas Edison. "Seize the day!"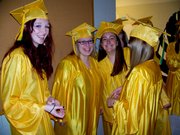 Several members of the Class of 2013, he said, were already doing so. Three students had completed the advanced New Visions Health Career program in 2013. Another had worked as an intern in the Warren County District Attorney's office. Yet another student, a star athlete, had been named a top delegate in the Model of American States program and was now ready to pursue studies in International Relations.
"I encourage all of you, regardless of your home life, or academic history to this point, or any other condition, to work hard," he said. "'Happen' to the world."
Family ties are most important
Van Nispen cautioned his classmates, however, to balance their career aspirations with a fulfilling family life — which he said was more important than anything else.
"Your family is the one thing that will never desert you," he said.
The Valedictorian also urged them to live their lives with integrity and to resist peer pressure.
"Live your life honestly, live within your means, and do not follow someone else's path," he said. "Make a difference, make no excuses, and do not forget the people that you meet along the way."
Vote on this Story by clicking on the Icon