BOLTON LANDING — Following a decades-long tradition in local commencement exercises, each of the 23 Bolton High School graduates walked one-by-one from the stage into the audience and gave their respective parents a long-stemmed rose, hugs, and posed for photos.
This gesture, practiced for as long as anyone can remember, not only exemplifies the strong bond not only between the students and their parents, but between the students, the school faculty and staff — and members of the community as well.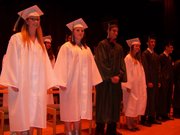 The audience included not only the students' relatives and friends, but local residents who attend graduation ceremonies annually to give the students a memorable send-off for the new chapter in their lives.
This audience, packing the BCS auditorium, chattered and applauded at photos, projected onto a screen, of the graduates as youngsters — in a video presentation that tracked most all of them, frolicking together at Koala-T Preschool then evolving through each grade of the primary, middle and high school phases.
Salutatorian Emma LeMaire spoke of this shared community bond as well as the students' experiences together through the years.
"When I moved here in fifth grade, I thought this school was so strange because of its (small) size and how everyone seemed to be so close," she said. "But over the years I have grown to love it for that very reason. We get to have an experience that students from other schools don't have — we have the opportunity to get close to our teachers and really know their personalities."
LeMaire talked of Math and Physics teacher Steven Beuerman and his continuing encouragement; History teacher Paul Weick and his trivia games; English teacher Michael Leone and his student skits; Science Instructor John Gaddy and his subject knowledge; and Art Teacher Aimee Sawyer and her patience.
"This school has truly proven to be a special place," she said.
(Continued on Next Page)
Prev Next
Vote on this Story by clicking on the Icon